Sweet and Sour: Partnership Wins & Flops #12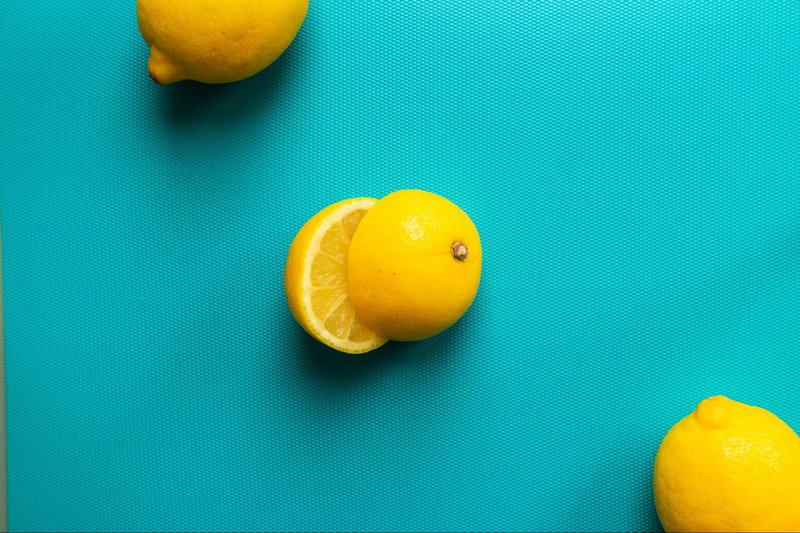 It's been a while since we have done a Sweet and Sour roundup! But we are back with one of our favorite partnerships lately, as well as one that missed the mark for us.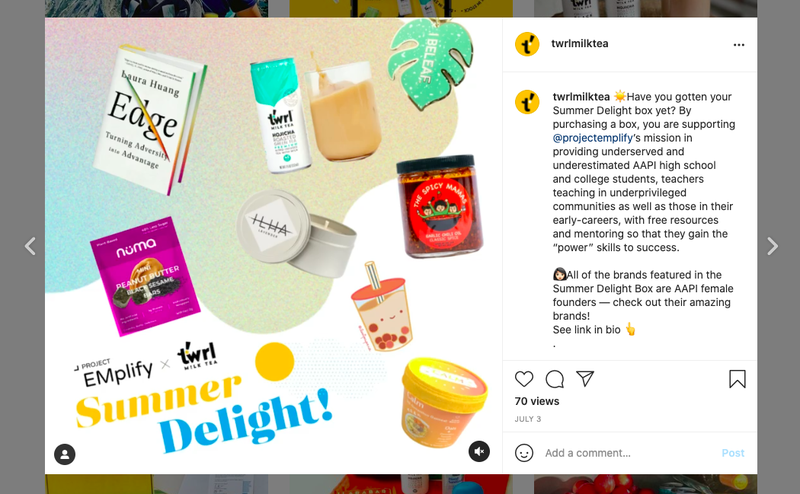 Sweet: Twrl Tea x Project Emplify
What was the partnership? Twrl Tea put together the Summer Delight box filled with goodies from Asian American female founders. 100% of the proceeds from the box are being donated to Project Emplify, a non-profit focused on changing the narrative of AAPI success. They are teaching underrepresented AAPI communities soft skills needed in life and the workplace.
All brands and products included in the box shared the news on Instagram and the box is being sold on Twrl Tea's website.
Why was it sweet? All of the brands in this box align in being female and AAPI founded. The name "Summer Delight" box was chosen because they hope you "will be delighted by these amazing brands." I especially love that there are 8 products, chosen intentionally because 8 is a lucky number in Chinese culture.
Our insight: The consistency in value alignment is key here! All of the brands/products involved are very different - some snacks, a book, an enamel pin, etc. Their popularity, customer base, and social media following are all in very different stages. However, they are all female and AAPI founded and the charity they are giving back to aligns with that as well. I love the messaging surrounding the items in the box - these products delight Twrl Tea founder Pauline Ang and she hopes they delight the customer as well.
Key takeaway: We've said it once and we will say it again: if you work hard to curate a values-aligned partnership you have to find the right messaging to communicate that or the hard work is lost on the customer. Twrl Tea did a great job on that with this partnership!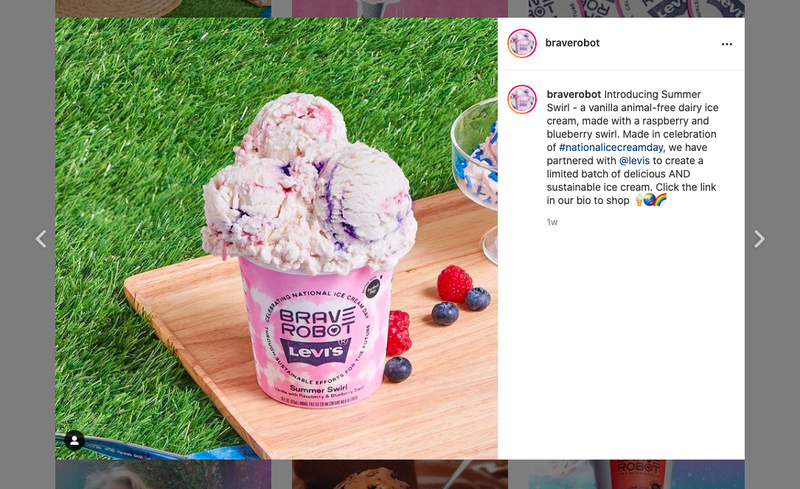 Sour: Brave Robot x Levi's
What was the partnership? Brave Robot and Levi's collaborated to create a limited edition summer flavor of ice cream. You can purchase the Summer Swirl flavor online on Brave Robot's site or if you lived in NYC the weekend of National Ice Cream Day you could head to select Levi's stores and receive a free pint if you downloaded the Levi's app.
Brave Robot shared about the partnership on their Instagram six times and sold the product on their website, Levi's shared twice on their Instagram, their logo is on the Brave Robot product, and they hosted the pop-ups at their stores.
Why was it sour? This feels completely random to me - Levi's is an established apparel brand and Brave Robot is an emerging brand, certainly not a household name. That alone could be overcome by spot-on messaging and aligned values. But, the positioning of the partnership and the messaging on Instagram was focused on "better clothes. better ice cream. a better planet." A great concept, but a little far fetched for Levi's if you ask me. I don't think of greener, cleaner clothing when I think of their denim, and Brave Robot doesn't have strong enough brand recognition or green messaging to pull Levi's up to that level.
Our insight: I would say Brave Robot absolutely got the better end of the deal being exposed to Levi's audience. This may have been a win for them in terms of exposure and growth. However, I feel it was a total misalignment in values. Brave Robot is all about their cruelty free, better-for-the-planet product and Levi's feels far from that.
Key takeaway: Value alignment is key when it comes to picking a partner. Your customer base knows what feels right and what feels like a stretch. Something may look good on paper and the projected numbers might be nice. But is altering your image or brand worth it when it comes to altering your perception to your loyal customer base?