5 Coffee Partnerships We are Loving and Why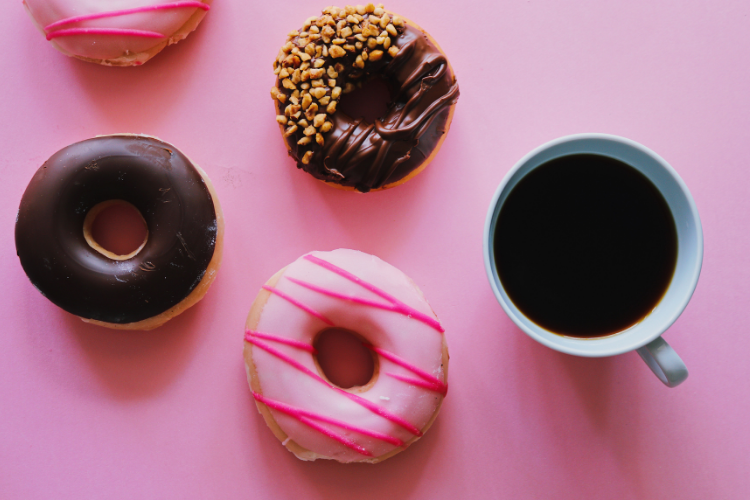 We have noticed coffee companies upping the ante when it comes to partnerships lately! And not just the big guys, small-indie brand roasters are getting in on the magic with some pretty impressive partners too! 
Just like every other middle-of-the-pack, 30-year-old millennial, I am well aware of my reliance on coffee. It's not just the caffeine though for me! It's the experience, the taste, the routine, the ritual, and let's be honest running errands is just better with a local oat-milk latte in hand. 
So, any reason to try a new brand, bring coffee into another part of my life like makeup, or make my chain coffee shop experience better. I am here for it! And these partnerships are doing just that.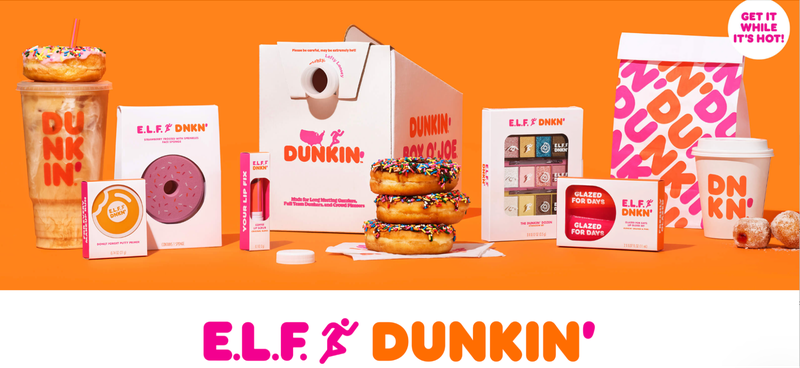 Dunkin' x E.L.F
E.L.F is known for making affordable makeup staples that are vegan, cruelty free, and widely available.  We all know, Dunkin' of course - America runs on it!  We have written about Dunkin's partnerships before: they did one with Dove a few years back that we did a case study on in fact!. And E.L.F is no newbie to the partnership game either, having worked with musical artists and even Chipotle! 
The partnership: E.L.F cosmetics and Dunkin' have partnered on a makeup collaboration that is so colorful and fun. The collection includes products like super-pigmented eyeshadow palettes with colors that feel just like a Dunkin' donut, coffee lip scrub, and "Glazed For Days" lip gloss.
Why we love it: The brands got really playful here with the products and colors! The names are punny and play into the theme. They went all in on the partnership and you can tell this has been in the works for some time. I find Dunkin' to be an excellent choice of partner for E.L.F, while Starbucks gives off more sophisticated, expensive, andmature vibes, Dunkin' has a fun, affordable, and approachable brand that matches perfectly with E.L.F and their customer base.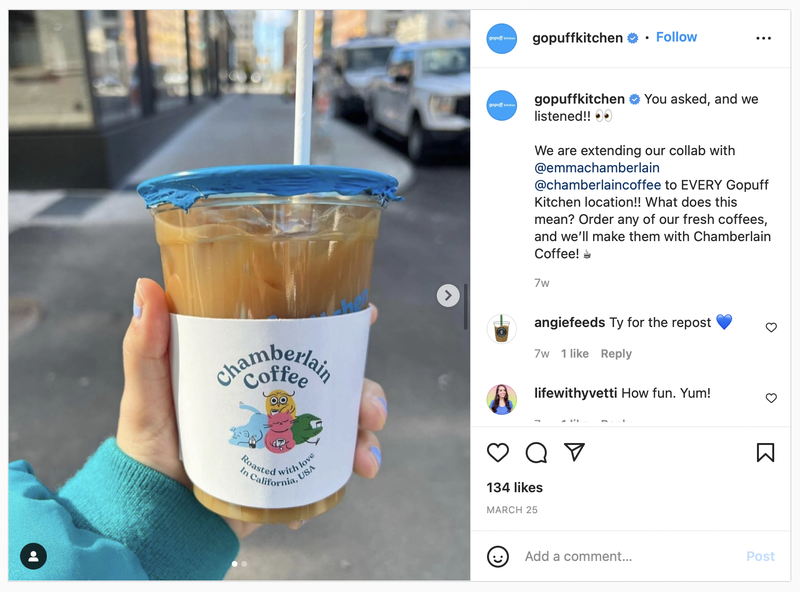 Chamberlain Coffee x GoPuff
If you, like me, have seen Chamberlain Coffee around - I first saw them at ExpoWest - and wondered why their founder, Emma Chamberlain, is such a sensation then you, my friend, are getting old.  Emma Chamberlain is a YouTube star who often talks about her love for coffee, so it was a natural fit for her to grow her business by offering D2C coffee beans. 
The partnership: Emma's coffee, Chamberlain Coffee, is now for sale on GoPuff along with pre-prepared lattes and coffees in select flavors with either whole or oat milk.
Why we love it: Emma's audience is strongly GenZ and young millennials, who have a lot of purchasing power and are tired of the stale and boring coffee aisle. This partnership is perfect for both parties in leveraging one another's audience. GoPuff is still new to the game, and needs trust, exposure, and unique products to bring in new customers. They have an extension of the app called GoPuff kitchen that delivers readymade items, like Chamberlain's coffee! Meanwhile, Chamberlain's coffee will only sell so much to her existing followers, she needs to branch out to maintain growth.  Partnership match made in heaven!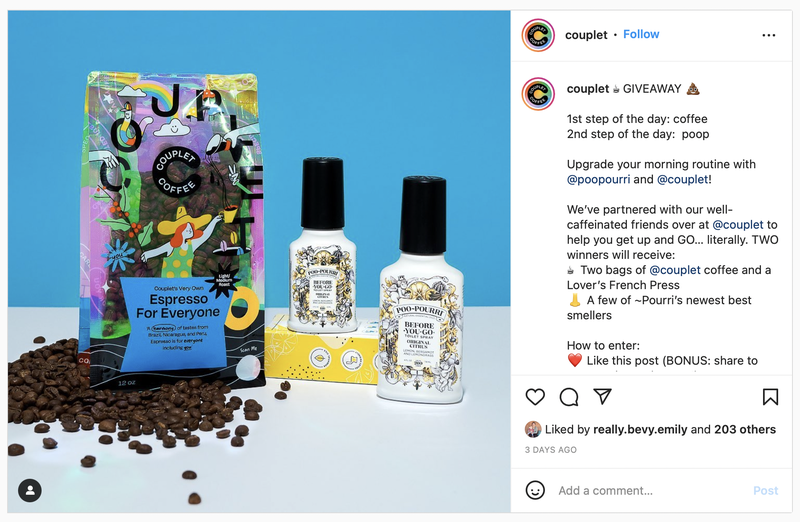 Couplet x Poo Pourri
This one made me laugh out loud when I first saw it! Instagram giveaways are a dime a dozen, but this one between Couplet and Poo Pourri really nailed it for us. Couplet Coffee's Instagram bio says "making coffee fun" so this feels very on brand. 
The partnership: Couplet Coffee and Poo Pourri partnered on an instagram giveaway where the theme was your morning routine, focused on - you guessed it - coffee and poop, in that order. Check it out here. 
Why we love it: It is a total disruption on your feed to see these two products together, along with its well written copy it is completely on-brand for both Couplet and Poo Pourri in its outrageousness.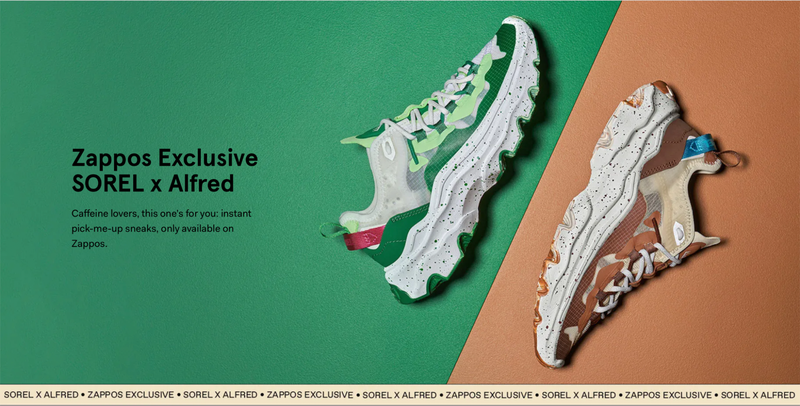 Zappos x Alfred x Sorrel
This isn't the first Zappos exclusive partnership, they have snagged some pretty big names like ASICS and Birkenstock. They really did it big on partnerships for their 20th anniversary! But, this one is a partnership between Alfred and Sorrel, so we are extra here for it! What does Gen Z love more than chunky sneakers and matcha? Maybe TikTok and bringing back the 70s? 
The partnership: Alfred and Sorrel partnered on a custom shoe design inspired by Alfred's coffee and matcha lattes. The designs are exclusively sold on Zappos.com. Check out the partnership here!
Why we love it: Too many partners can be overwhelming to customers and too many cooks in the kitchen can cause disconnect on the message. But, each of these companies played a clear and essential role here. Zappos is using their breadth of customer awareness to sell the product, Sorrel had the production methods and reputation, and Alfred had the GenZ buzz on lock down.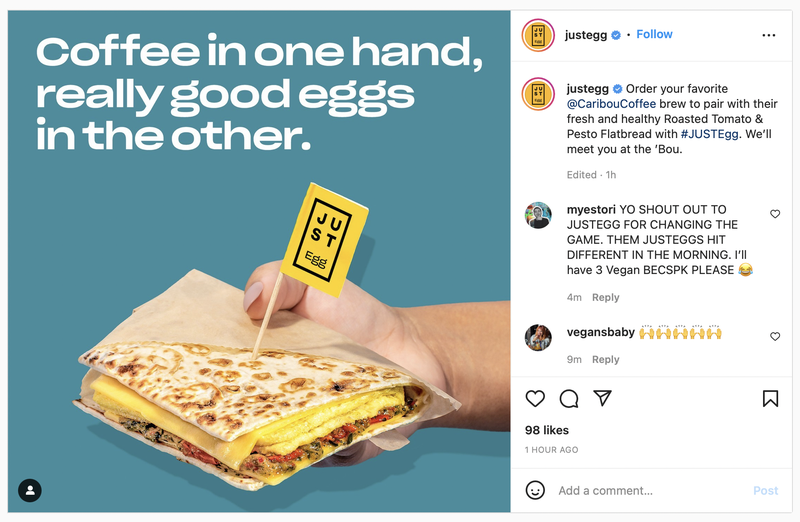 Just Egg x Caribou Coffee
Coffee shops are stepping up their plant-based offerings and we could not be more excited! Caribou Coffee joins the list of chains that is now offering a vegan breakfast option through their partnership with Just Egg. Personally, Caribou is one of my favorites of the chains, although I 100% go local first, so I am especially pumped for this.
The partnership: These flatbread sandwiches featuring Just Egg patties are being sold at Caribou locations across the country.  Read more about it here.
Why we love it: Let's be honest, coffee chains need to up their game on food offerings. They have never been the first place that comes to mind for a good breakfast, but when traveling or in a hurry sometimes you gotta do what you gotta do. Caribou is smart to partner with Just Egg to make this happen - just like Starbucks did with the Impossible breakfast sandwich. It is increasing their appeal among the growing plant-based audience. I think Caribou is a fantastic choice for Just Egg as well! They likely would not have the capacity to meet demand at one of the A-List chains, so Caribou is a great option for them because of their size.
---
Want more from Parsnip? Follow us!
This round up was written by Emily Hines, a freelance brand manager for CPG brands.