5 Creative Ways Your Brand Can Show Up and Serve Online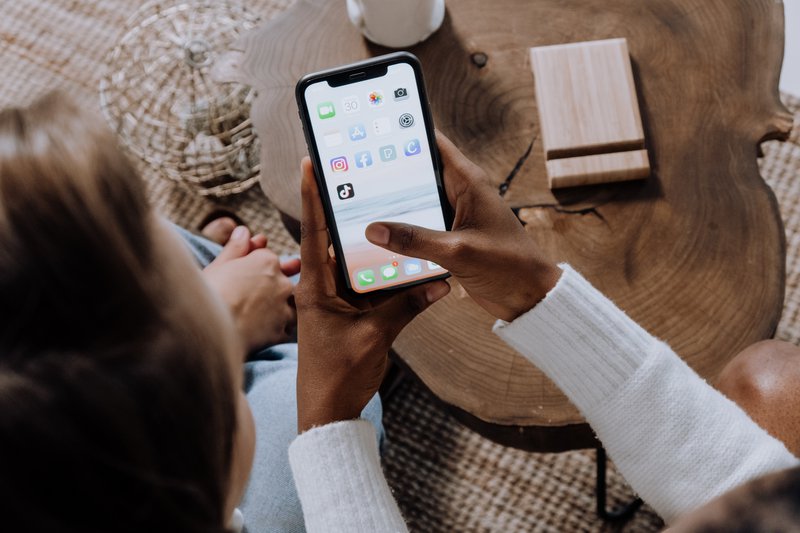 Guest blog by Cynthia Samanian, founder of Hidden Rhythm, an experiential marketing agency for natural food and wellness brands. In addition to helping brands build loyalty through events offline, Cynthia teaches brands how to create engaging online experiences through her new course, Online Experiences For Food Brands.
What a crazy few weeks it has been, am I right?
With demos and events at a standstill, chances are your marketing efforts have fully shifted to the online space. Believe me, I want nothing more than in-person experiences to return, as I've built my career on helping brands create engagement in the offline world.
But, guess what? There IS a silver lining and I invite you to explore it with me. Constraints drive creativity, and by being limited to online channels, our industry is innovating in ways that may have never been thought of before. No longer is Instagram just a place to share photos of your product or behind-the-scenes stories. And no longer is Zoom just a tool used for business calls and team meetings. With each day that passes, we are rethinking and repurposing the platforms we have in front of us. Without a doubt, our world has changed, but with change comes opportunity.
In this blog, I'm sharing five creative ways your brand can show up and serve your customers through online marketing. As with any successful campaign, compassion and authenticity are key, and I've been impressed by how these food brands have integrated both elements in their marketing.
If you're stuck on how to move forward with your brand's online marketing, then get ready to get inspired!
Go live, together
The most popular way I've seen brands connect with their audiences is through programming on Facebook Live, IGTV, and of course, Zoom. Food brands are truly stepping up their game as content creators, some even offering daily programming.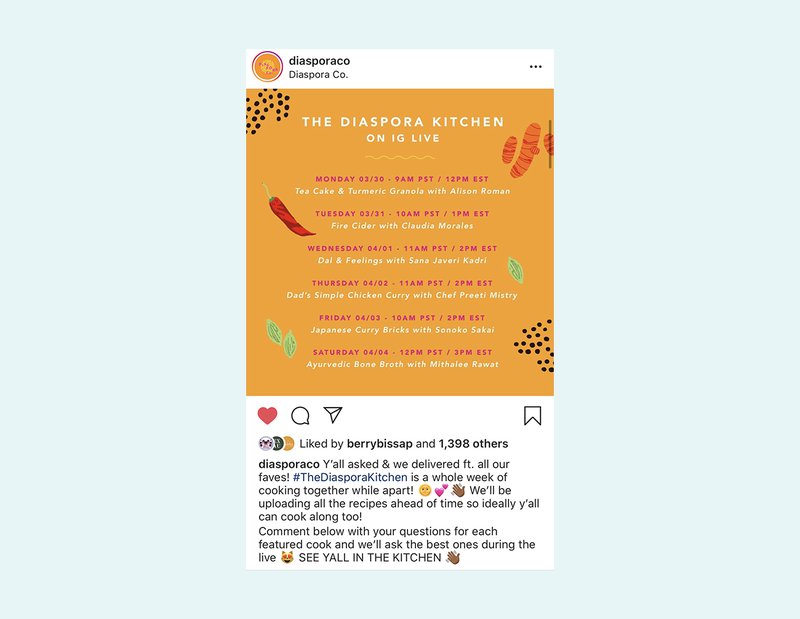 Within this trend, is the opportunity to be super resourceful and partner with chefs and other like-minded brands. Diaspora has shown how this can be done really well. In fact, just this last week, they kicked off their IGTV programming big with Alison Roman, followed by other great chefs. Partnerships definitely require planning ahead and staying organized, but the upfront work can really pay off! You'll end up with more diverse content and partners to help spread the word and grow your reach.
Plus, given that we're all tucked away in our homes, collaborating with others, who are also in their homes, creates this level playing field where it's not about fancy cameras and studio sets. Naturally, the content feels more personal, relatable and authentic. That's where Parsnip can come in - if you are a member simply search for the right partner based on the values you are looking for or send them an email with what you are looking for!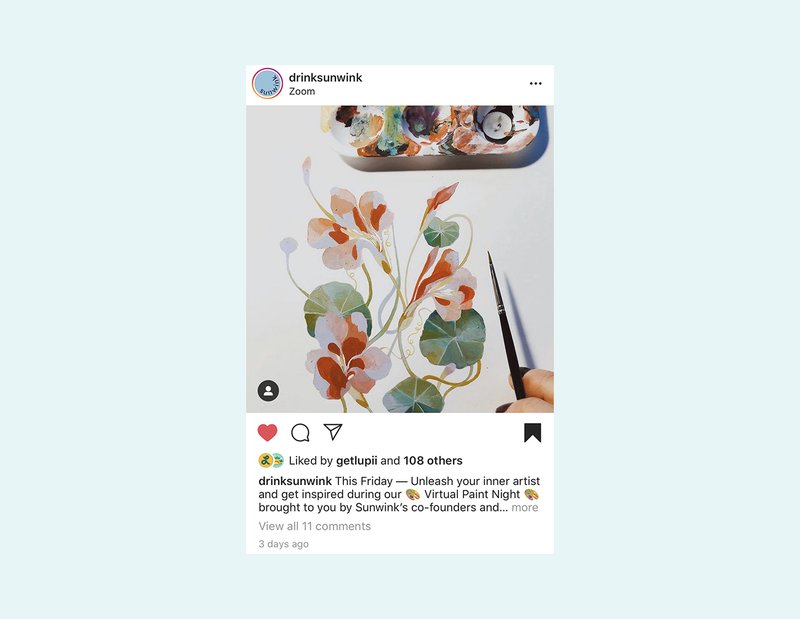 In another example, Sunwink, maker of sparkling herbal tonics, is thinking outside of food for their upcoming online event. They're hosting a "Virtual Paint Night" on Zoom. You might be wondering what does painting have to do with tonics? Well, they invited artist and textile designer Lital Gold to teach participants how to paint a botanical piece of art. I love the creativity in bringing in a discipline outside of food that still relates to the overall brand.
Diaspora Co: Use FREEHIPPO for free shipping on orders $30+ AND they're donating $4 out of every $12 Pragati Jar of turmeric to COVID-19 relief efforts.
Sunwink: Use code PAINT30 for 30% off online orders.
Sell whatever you can, however you can
With people making fewer trips to the grocery stores and opting to shop online as much as possible, there's a ripe opportunity to sell direct-to-consumer.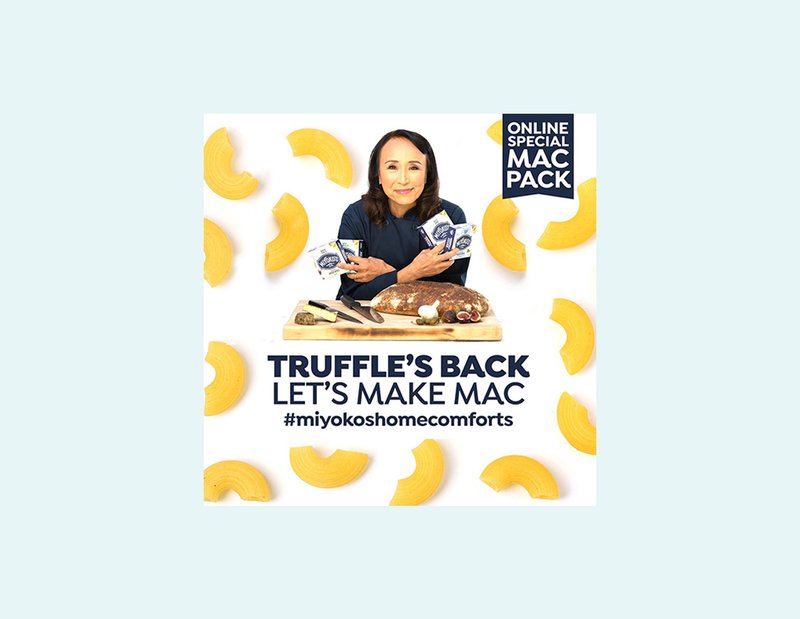 Miyoko's Creamery has done a great job of this by offering online-only bundles to meet the needs of their customers. Their "Butter Bundle" gave fans easy access to vegan butter staples to help them cook and bake without braving the grocery store aisles. After selling out, they just released an online-only "Mac Pack" with everything you need to make their vegan mac and cheese.
Some brands have even offered a free delivery service within a certain radius, to ensure they can still get products to their customers.
Make it easy to give
With all the uncertainty in the world, one thing is for sure: everyone loves to give care packages and everyone loves to receive care packages. While I've seen a good number of brands generously donate their products to organizations, the concept of gifting is a bit different.
When you empower your customers with the ability to give someone a gift through your brand, it adds an emotional layer that makes the experience more meaningful and share-worthy to the giver and recipient. Your brand becomes positively associated with these feel-good emotions, and the impact of that can be long lasting. That's why gifting is one of the five creative ways your brand can show up and serve online!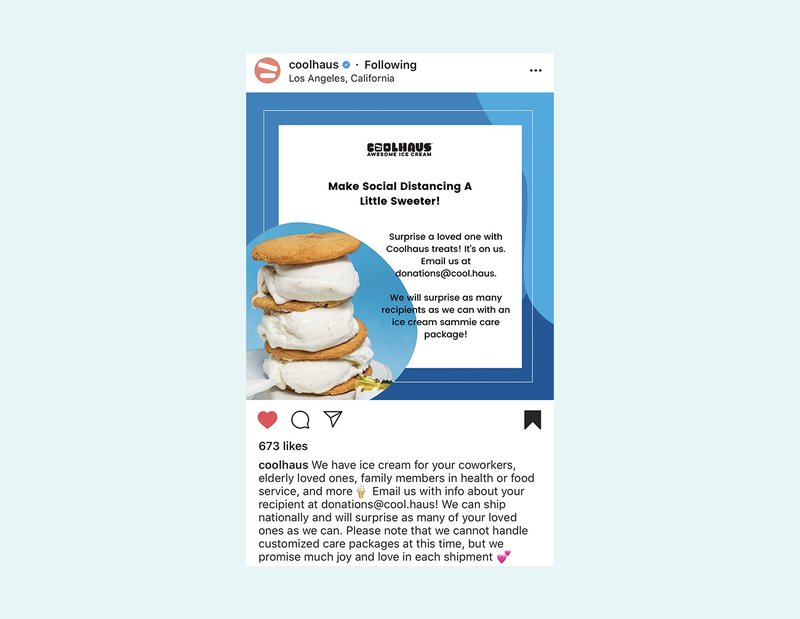 CoolHaus leveraged the concept of gifting by offering to send an "ice cream sammie care package" to anyone. That's right, anyone you want! They cleverly shared their hope to "sweeten up social distancing" by taking on the logistical challenge of getting frozen goods to your coworkers, loved ones, and more.
Dive into digital
If you have a great designer on your team, or you know your way around Adobe's creative suite, then this option might be for you. Digital goods are a fun, light way to add instant value to your customers and they don't require a lot of planning or logistics.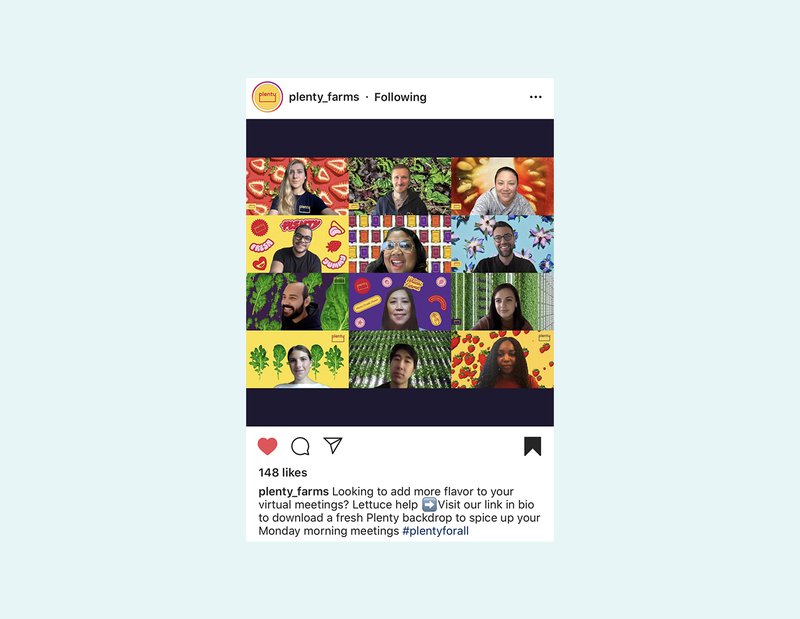 Recognizing that Zoom was becoming a household name very quickly, Plenty Farms designed and shared 15 different virtual backdrops. The designs each featured fruits and vegetables, tying back to Plenty Farms' brand. While they did incorporate their logo, it was done in such a subtle and tasteful way, that the backdrops didn't feel overly branded.
We've also seen brands create clever fill-in-the-blank Instagram story templates, downloadable coloring sheets for kids, and more.
Serve authentically
This last category is a bit of a grab bag, because it's really up to YOU to figure out how your brand can best serve your customers. Think beyond just your product, because your brand is so much more than that. Consider your values, beliefs, origin story, team, supply chain, and other elements that make your brand unique when you are thinking of creative ways to show up and serve online.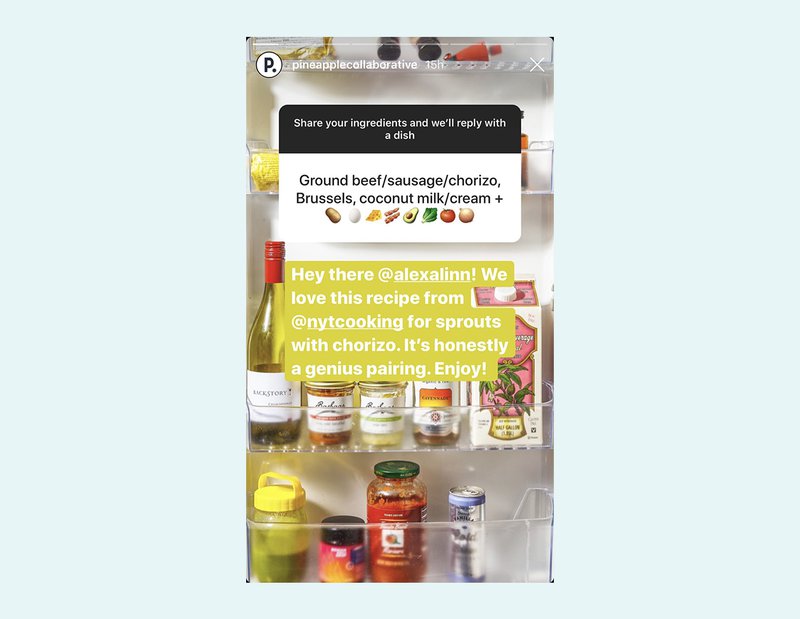 One example that comes to mind is from Pineapple Collaborative, a community for women who love food. If you've followed Pineapple, then you know they have quite the obsession with pantries. Their online content features a look inside the pantries of influential women in food. And, Pineapple recently launched their own line of pantry essentials including olive oil and apple cider vinegar.
Given this, it's no surprise that they launched The Pantry Hotline on Instagram. Just reply to Pineapple's story prompt with what you have on hand, and they'll magically find a recipe you can make. While any food brand could do the same thing, it feels most authentic coming from Pineapple.
Pineapple: Free shipping on orders over $50 with code BETTERTOGETHER
So, how will YOUR brand show up and serve your customers and community online? Even in today's turbulent times, people are seeking to support small businesses and discover new brands, especially those that are aligned with their values. With these examples as inspiration, you are well on your way to crafting a marketing campaign that is creative, authentic, and compassionate. I can't wait to see what you come up with!
Free Download & Offer For You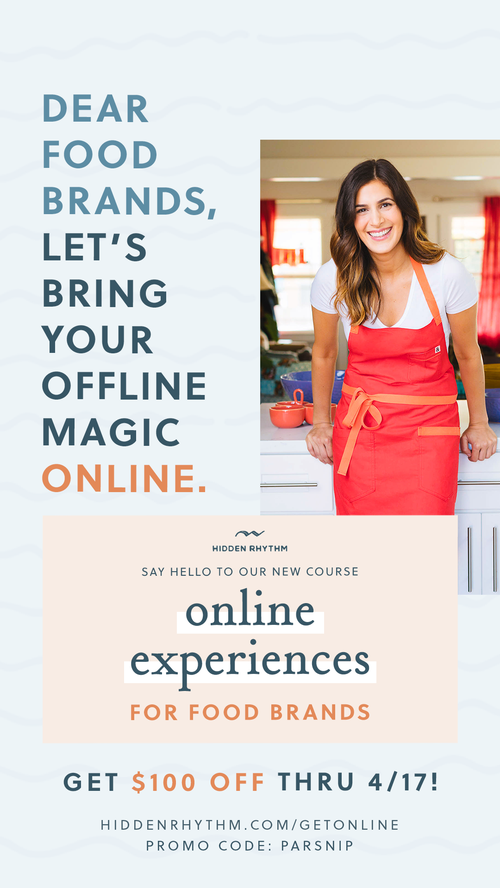 To explore my full list of 19 examples of creative marketing campaigns, be sure to check out my free guide, 19 Creative Online Marketing Ideas To Help Your Food Brand Show Up and Serve.
And, if you want to create an even more engaging online experience to grow your brand, then you're in luck! I'm launching my brand new course, Online Experiences For Food Brands, and doors are officially open. Parsnip members get a special early-bird discount of $100 when you sign up through 4/17. Just use the promo code PARSNIP when you check out!
Thanks so much for reading today! If you'd like to stay in touch, head on over to my private Facebook group where you can get inspired, connect with fellow founders and marketers, and learn more about experiential marketing for food brands. You can also find me on Instagram as well as on my podcast, The Experiential Table.