5 Partnership Ideas For Back To School Season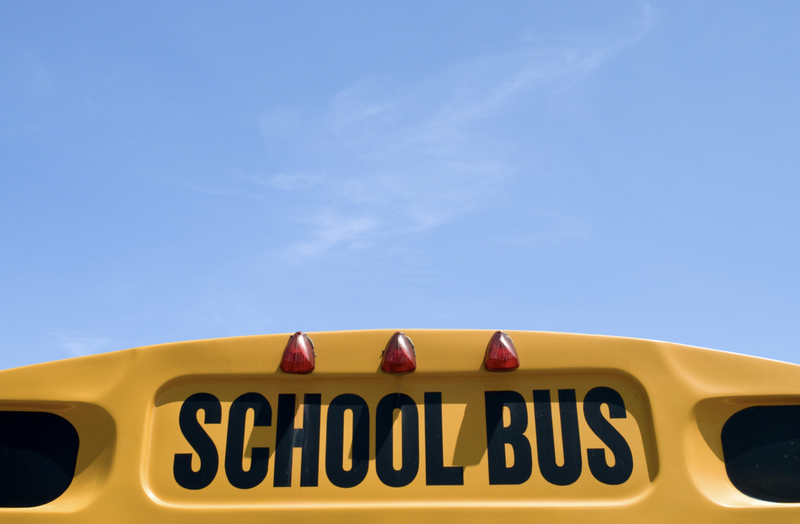 BTS, back to school. For me it marks memories of endless school supply aisles filled with Lisa Frank folders and notebooks and an anxiety about the day my daughter leaves for Kindergarten. For the retail industry it marks the beginning of a return of consumer spending after a lull over the summer months. Kids across the country are filled with a nervous excitement as they try on crisp new sneakers. And parents, usually filled with excitement, are now torn between worry/fear and relief to have the kiddos out of the house.
It is a great time to align your brand with other products and organizations that reflect your values and fill the needs of parents during this transition from summer to back to school.
Remember when you are putting these together that parents and guardians have the purchasing power here. The giveaways are not going to be entered into by children under 18, and products - even if chosen by a kid - will most likely be purchased by a parent.
Support A Cause
Kids, teachers, and parents need a lot of support right now. With budgets for teachers never being what they should be, shortages in staff, very real safety concerns, and the ever present issue with access to education, the list seems endless in ways our education system needs a boost. Some partnership types you can pursue in support are things like sharing proceeds, devoting a portion of profits from a particular date and/or product back to the cause, creating a unique gift set like a teacher gift, or a co-branded product.
I tagged in a close friend on this one because it is certainly not my area of expertise. She is a Teach For America alumna, taught in underserved school systems in Memphi and Charlotte, and now works for an organization that supports teachers and school systems to bring a greater level of education to areas that historically have not had their needs met.
Her advice? Partner locally! Local groups know what the school systems around you need most and are tapped into the network to best assist. Here in Charlotte where I live we have Classroom Central. Look to see who is supporting school supply drives around town, head to Google, or ask any educators in your life what organizations are directly supporting local schools.
And of course there are organizations you can support that are fighting for an end to gun violence in full force. Here is a great list that you can browse.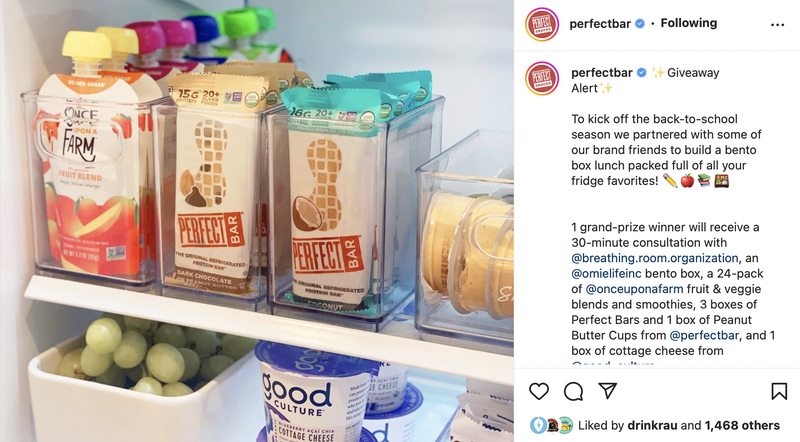 After School Snacks
The snack aisle doesn't stand a chance during back to school! Between packing school lunches and grab-and-go options for after school snacking between activities, or during homework, families are always looking for tasting snacks. Join together with some other unique grab and go options - here's just a few theme ideas:
Snacks for the Creative Genius: Is your brand particularly into supporting and embracing the creative arts? Partner with some other brands in the same realm to fuel the blooming artist in their after school endeavors. Think: paint, notebooks, reusing shipping boxes, stickers that go hand-in-hand with your snacks. Even better? Start planning for a co-branded product for next year, where you give the proceeds back to the arts.
Music To My Stomach: Pair your brand with an instrument you feel embodies your brand and ask the rest of the partners to do the same! Host a giveaway for the musically inclined snacker who has band practice every night!
Snacks and Stinky Socks: The growing athlete needs more than just stinky socks and lots of water in their gym bag. Pull together some brands that help fuel the active kiddos with the protein, electrolytes, and nutrients they need!
Easy Kids Meals
Grab the kids from the bus stop, take one home, take another to music lessons, check in to make sure the kiddo at home  is doing their homework, run home and make dinner, collapse on the couch. Parents of kids who are old enough to do after-school activities know this routine well. Help them make their end-of-the-day sprint to the finish line a little easier by partnering with some other tasty, quick, healthy meals or ingredients!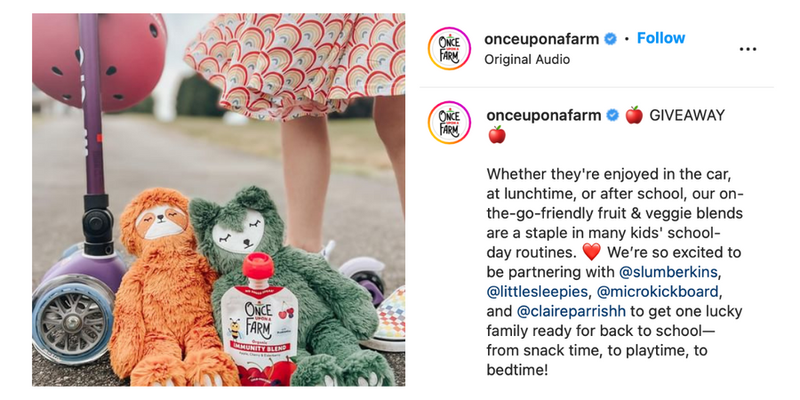 After-School Fun
Embracing a child's hobbies, creative outlet, gift, or end-of-the-day release is important to supporting their growth, development, and confidence. Every kid is unique with outlets like reading, theater, creative arts, sports, music, STEAM, and so much more. Build a giveaway to support parents in their efforts to give their child opportunities to explore all of these things. I am picturing a young adult novel, an engineering set, some fun athletic socks, a funky sketch notebook, etc. 
Bittersweet Freedom
If you are a parent, you know that the end of summer comes with mixed emotions. The sunshine, memories, and kids at home is over. But, the kids being at home … is over. A lot of parents feel a sense of relief (*cough, freedom*)  when their kids go back to school. Give them a little something to help celebrate that, and calm their previously mentioned nerves. Here are some products that would go great together for this:
Fancy drinks: mocktails, sparkling things, all the drinks you don't want to share with your kids
Indulgent snacks: there are no more tiny hands to steal your chocolate covered pretzels, artisanal popcorn, or fancy cheese
Candles: create a peaceful ambiance in the quiet house
Partnerships are an exciting and creative opportunity for your brand to bring some fun to back to school season! If you are struggling to decide on that type of partners you want to collaborate with, you can start here: Find Your Next Partner With This Creative Exercise About Your Customers' Values. 
---
Want more from Parsnip? Follow us!
This post was written by Emily Hines, a freelance brand manager for CPG brands. Her specialty is email marketing and email automation!