Curated Insta Feeds To Drive Your CPG Social Presence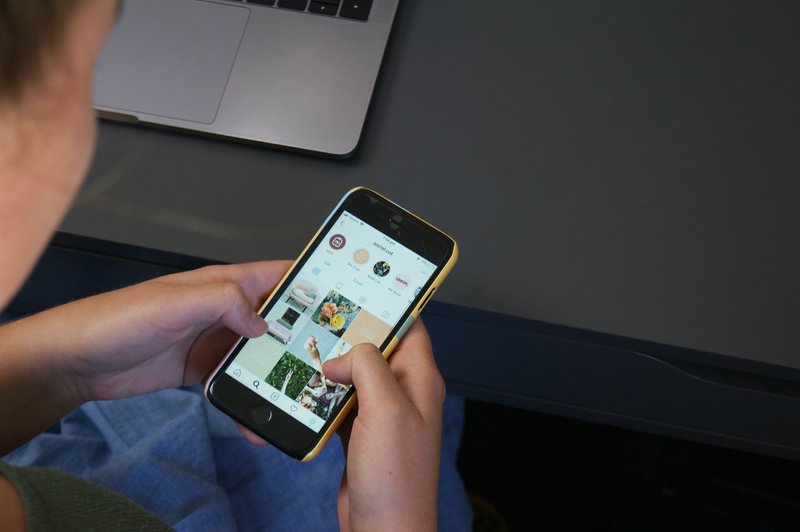 Guest post by Umai Marketing, a social media marketing agency Doing Good for mission-driven CPG businesses.
When you come across an Instagram grid that's on point - colors in sync, photos on theme, posts that make you think or chuckle to yourself - you hit follow. It's as simple as that!
But those of us behind the scenes understand it's no matter of luck: it's hours of browsing the web for just the right vintage image or snapping dozens of product shots, each slightly different than the next.
How does each method play into the madness? Which look and feel actually fosters brand loyalty for the long haul? We're digging into just that by sharing a few of our fave curated brands and some of the why behind their stylistic choices. Our hope is that learnings from these curated Insta feeds will help to drive your CPG social presence!
"Become a new member of the coconut cult. Just by eating this sexy coconut yogurt."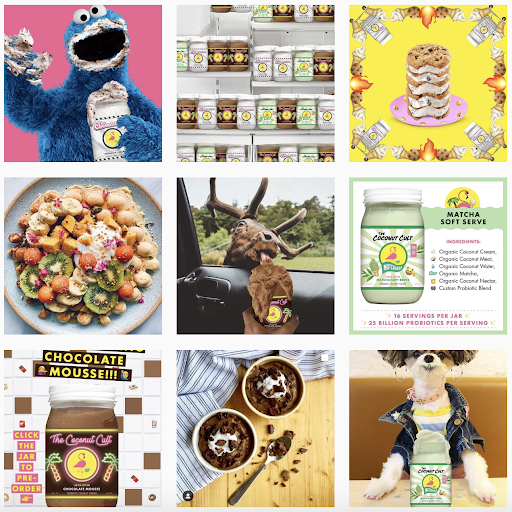 Let's be clear - having a curated feed isn't all about perfectly arranged smoothie bowls or uniform branded colors. Before we highlight any examples like that, we want to show you something different: The Coconut Cult!
This one relies heavily on overly bright, unpredictable designs; dogs and moose enjoying probiotic yogurt, because why not.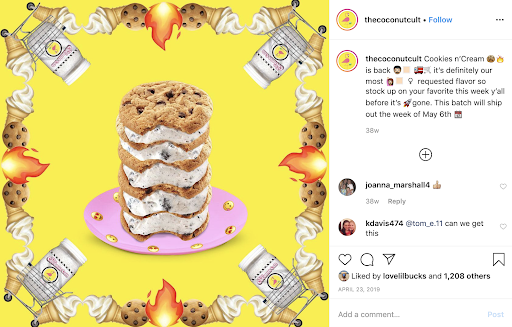 Here's another fun example of that - cookies 'n cream sandwiches framed by emojis. It instantly grabs your attention as it's not another basic selfie or landscape crowding your feed.
Let your own brand's voice and values lead the customer experience you're developing. In the case of The Coconut Cult, this means graphics and copy are sassy and a little strange. What'll work best for your product or service?
"Mother-in-Law's Kimchi grew out of a labor of love to share a delicious, artisanal kimchi."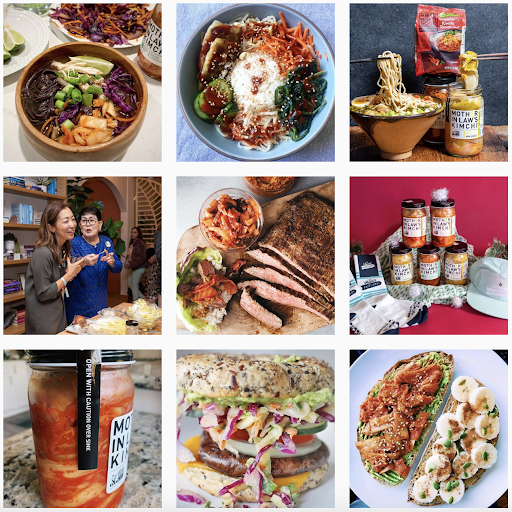 Mmm. Kimchi. Because authentic and delicious kimchi is so hard to find in a conventional grocery store, Mother-in-Law's gets people talking. As a result, they've got a wealth of user-generated content (UGC) to work with.
Here, there's less of a need for studio shots. In fact, some audiences may react better to recipes that are drool-worthy, while still being achievable for the everyday cook.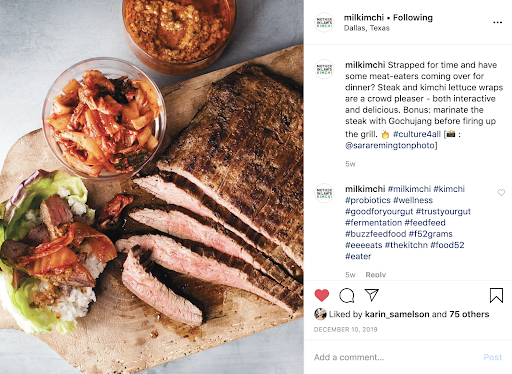 Take a classic meat-lovers meal like steak and add kimchi + lettuce? Super doable. Best of all, the combo makes kimchi - a food which plenty are still unfamiliar with - much more approachable.
Knowing your audience is key to deciding what will or won't resonate with them online. Mother-in-Law's gets that their customers don't want picture-perfect recipes that they'll never recreate - for them, elevating everyday dishes wins out in terms of both community engagement and brand loyalty.
"Dreamy Skincare For Everyone. We're here to add a little bit of love and magic to your everyday self care routine."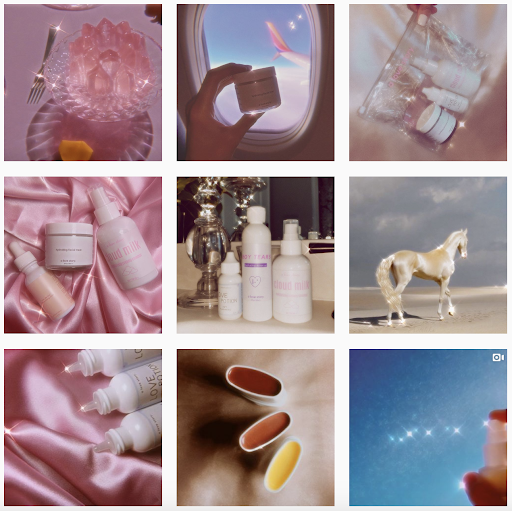 Imagine if a Bratz doll had an IG - this is it. Glowy, shades of pink, and a bit overdramatic. The use of silky folded fabrics in product photography evokes sexy undertones easily aligned with the objective of skincare: soft, touchable skin.
But, it's the vibe-y aesthetic posts like this jelly bundt cake that we're calling your attention to.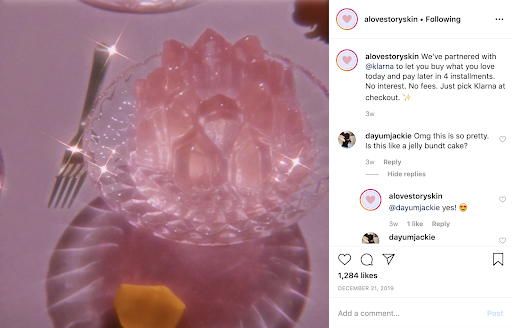 We love that this caption about a new payment partnership is super clear, so users can digest the facts quickly before returning to the shareable imagery.
@alovestoryskin associates their products with all things pretty, drumming up attention through supplementary imagery and cashing in whenever they slide another dreamy product shot in.
The key takeaway from this curated Insta feed that will drive your CPG social presence? It doesn't always have to be about the perfect product shots. Supplementary images that are on-brand can get a virtual conversation going.
"Beam makes meticulously extracted, natural, phytocannabinoid-rich CBD products for wellness, rest, and athletic recovery."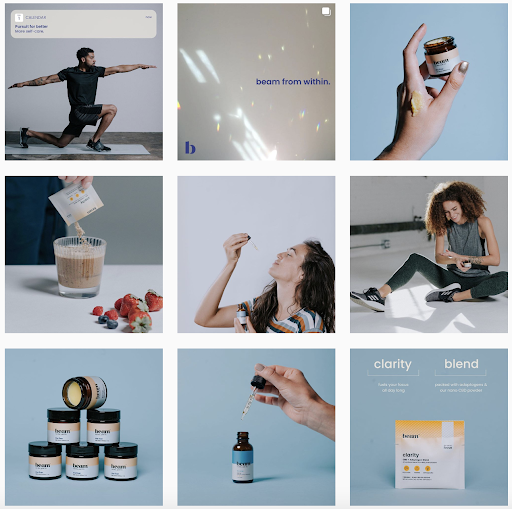 Beam takes a simpler route, sharing minimalistic product shots with a steel blue backdrop drawn from their logo. Intermixed with a few lifestyle shots, they strive to educate their audience while remaining conversational.
Big picture, they keep their aesthetic clean so they're able to convey an idea: CBD and adaptogenic blends support a clearer state of mind.
How do they make themselves more relatable? With branded iPhone notification posts and text messages.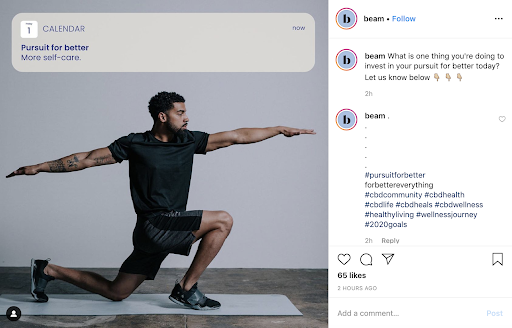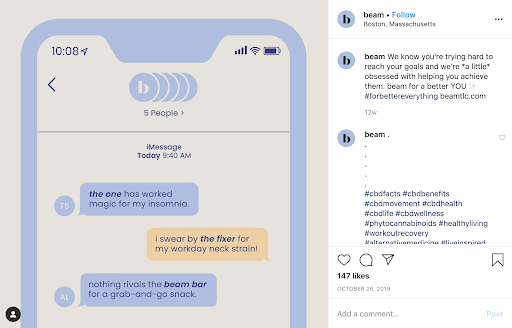 It's something you see every day, only slightly altered to match their branding. In this way, you can fairly easily imagine the product incorporated in your own life and consequently add to cart.
"by Humankind is a direct-to-consumer personal care brand dedicated to reducing single-use plastic waste in the products we use every day."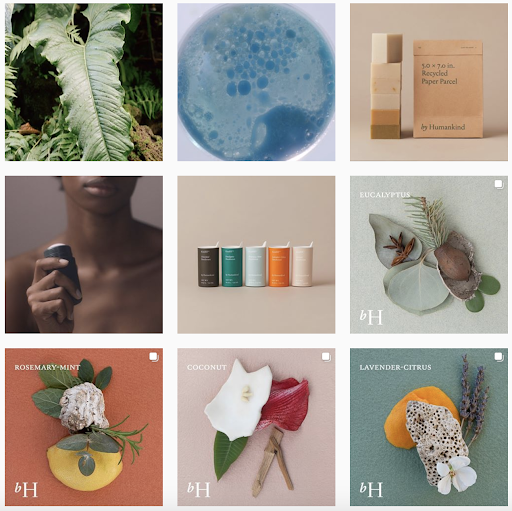 Isn't this all-natural beauty brand gorgeous?! 😍 Their use of text paired with ingredients (leaves, flowers, fruit) makes the feed really easy to navigate + entices users to educate themselves through a pick-and-play model.
Being an eco-friendly brand, it makes total sense that they'd break up these studio photography shots with luscious foliage. But, they do so with a clear purpose!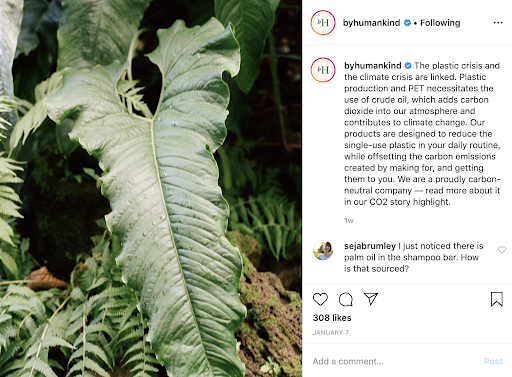 Posts like this are used to drive their mission statement of sustainability and nurture their fan base: near zero-waste packaging sets them apart and reminds their audience that their purchases are aligned with greener living.
"Delicious sparkling tonics made with prebiotics, botanicals and plant fiber for a happy, healthy gut."
Check out the hues of yellows in this grid. ☀ While photos of smiling people with product in hand already align this probiotic soda with a greater sense of health and happiness, we're fans of the testimonial graphics.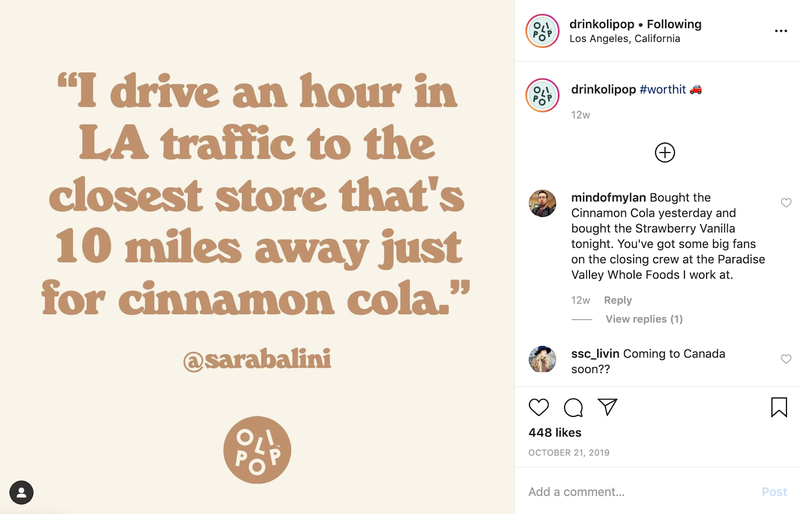 There's nothing better than seeing others vouch for a product, especially when they're speaking to an online audience that may only have the option to purchase products directly from a website. Or, one can leverage a post like this to highlight new retailer availability.
Either way, it gives users extra push to seek out products they could've been on the fence about purchasing. It says: "Others love this - so will you!"
_ _ _ _
Which feed was your favorite? ✨ We're honestly always on the hunt for brands like these that get their ducks in a row well before posting - it's inspiring. There is so much we can learn from these curated Insta feeds to drive CPG social presence.
Are there any curated brands you've been a long-time follower of or discovered recently that you think we should check out? Shoot us a DM @umaimarketing or learn more about our tactics to grow a social following here.
_ _ _ _
Umai Marketing is a boutique, Austin-based agency with a strong dedication to their clients' needs. They believe each brand is different and that there is no such thing as a "cookie-cutter" approach to marketing. For more education on social media content creation and advertising, visit their blog.