A Founder Story: Renewal Mill, Caroline Cotto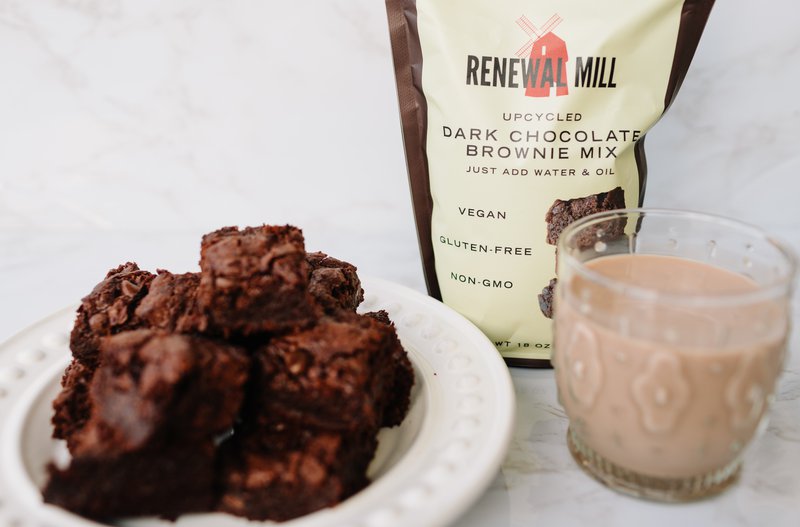 Wholefoods recently listed Upcycled foods as a trend for 2021 and featured Renewal Mill as a brand doing some amazing work upcycling ingredients. Founder, Caroline Cotto, talks all things climate change, staying organized, and keeping motivated as an entrepreneur. Heck, she even met Michelle Obama!
What problem are you solving with your brand's products?
Did you know that food waste is one of the leading drivers of climate change? Before I started my journey with Renewal Mill, I certainly did not. But, it's true. According to Project Drawdown's 2020 updated report, reducing food waste is the number one most important thing we can do to prevent two degrees of global climate warming. And, at our core, that's the problem Renewal Mill is trying to solve. We're trying to fight climate change with flour by upcycling the billions of pounds of nutritious byproducts that are arbitrarily labeled as "waste" and thrown away each year into better-for-you, better-for-the-planet ingredients.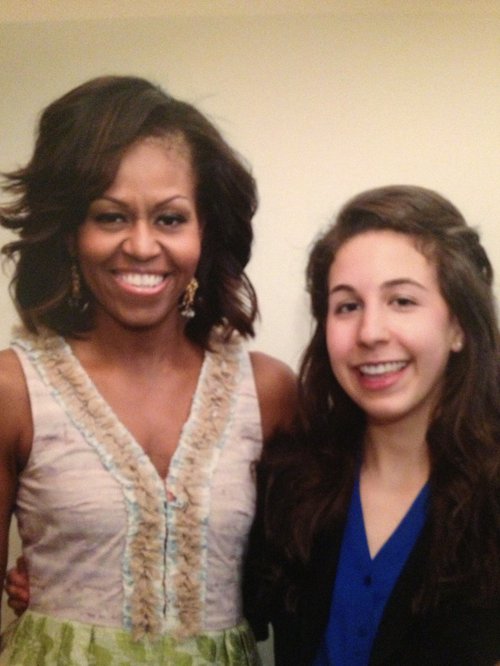 To be honest, we kind of stumbled into the food waste space. My co-founder Claire founded Boston's first organic juice company and was appalled at the amount of fruit and vegetable pulp going to waste at the end of every day. When she learned that big manufacturers, like tofu producers, were having analogous issues, she knew there had to be a more efficient solution. My background was more on the nutrition side. I saw firsthand the very real health effects that result from lack of access to affordable nutrition through my work in the food deserts of Washington DC and my work with Michelle Obama's Let's Move! child obesity initiative. It's bananas that our food system is processing the fiber out of most of our foods in a country where 97% of us are deficient in fiber and 41 million of us go to bed hungry.

Renewal Mill was born to solve these two problems: what if we could reduce the impact of our food system on the environment by making sure that 100% of the food we produce is put to its best and highest use: feeding people.

Photo: Me and Michelle Obama (2013)
What's the best organizational process/tool you swear by?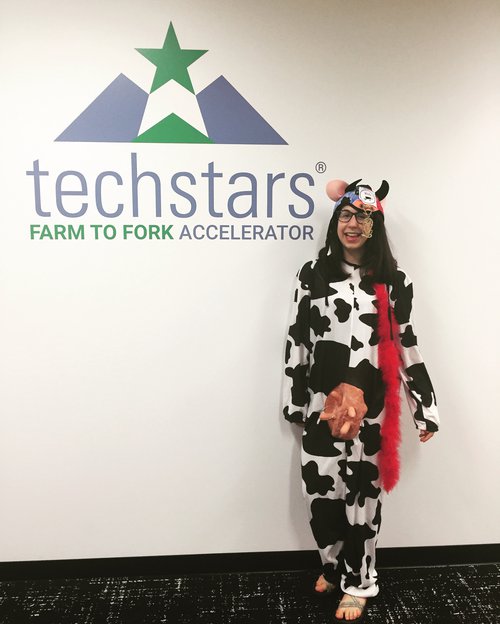 I laugh when I tell people this but my co-founder Claire and I actually met in canoe. We were seatmates in a twelve-person canoe paddling around the lakes of Minnesota, where I was working for the Techstars Farm to Fork accelerator at the time. It's hokey, but I think it's actually a great metaphor for our best organizational process, which is direction setting. I used to coach for Seth Godin's altMBA program, and one of the best lessons I took away from the program was to "steal like an artist." Claire and I stole the idea from Techstars to hold a weekly "Big Rocks" meeting on Monday mornings in which we set goals, or big rocks, that we want to accomplish in the week ahead and report on KPIs. For me, one of the biggest blessings and curses of entrepreneurship is the complete and utter autonomy. I have 100% control of how I spend my time and using this direction-setting framework helps keep me and my team focused on putting effort where it matters most.

Photo: Me at Techstars during one of the signature traditions - "an in-the-ditch" moment
My favorite quote that hangs in my office (or is on repeat in my brain) is ______.
For a long time the quote that's been constantly on repeat in my brain is an e.e cummings quote that says: "Once we believe in ourselves we can risk curiosity, wonder, spontaneous delight, or any experience that reveals the human spirit." As a female entrepreneur, and a relatively young one, I've lost count of the number of times that imposter syndrome has reared its ugly head. And, when it inevitably does, I try to circle back to this idea that believing in ourselves is the hardest hurdle to overcome. When I started this journey, I'd never done sales before. I'd never pitched for funding before. I didn't know what an MOQ, MCB, or MSRP were. Today, I lead sales for our team and have met with representatives of some of the world's largest food companies like Nestle, Mondelez, and General Mills. I've pitched for funding countless times in front of audiences from five to five hundred, and I'm currently serving as a board president of the Upcycled Food Association, something I never thought would be possible this early in my career. I have the courage to run Renewal Mill with a bent towards curiosity and risk because I believe in my team, and though it's constantly a work in progress, I fundamentally believe in myself.


Why do you tell customers your products are the best?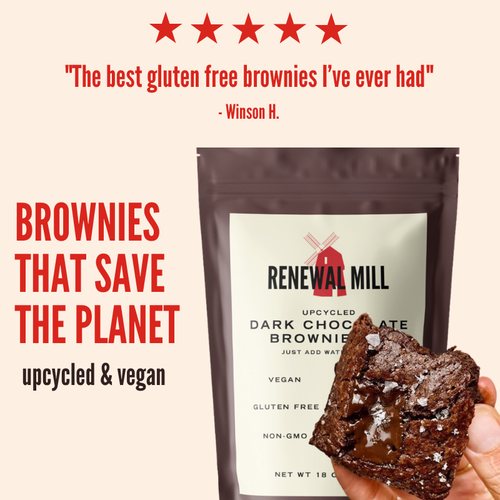 Because we're proving that saving the planet can be, well frankly, f*cking delicious. As I said, I come from a nutrition and health science background, and at baseline, Renewal Mill products are more nutrient dense than a lot of products in their competitive set. Our flagship ingredient, okara flour, is a low carb food that provides an excellent source of fiber and complete protein. It's actually a traditional Japanese superfood ingredient for these reasons. But, it's also extremely versatile and can be used in everything from vegan meat, to crackers and chips, to brownies. And let me linger for a moment on brownies. We decided to launch a "just add oil & water" vegan, gluten-free dark chocolate brownie mix in March of this year that features okara as well as two other additional upcycled ingredients. To be candid, with all those qualifiers, even we weren't sure it could be done. But, our product developer, the indelible 5X James Beard Award Winning cookbook author Alice Medrich is a miracle worker, and I challenge anyone to a head-to-head brownie battle with this planet-friendly mix.


On a weekly basis, one thing that brings me the most joy is ______.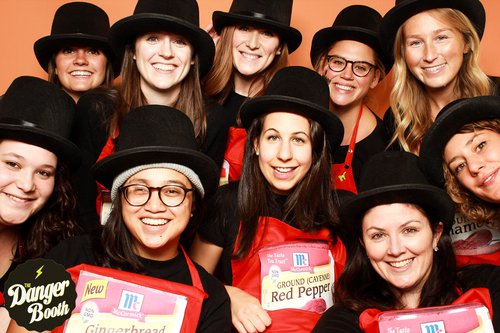 In our company Slack, we have a #winz channel, and it's the one thing that brings me the most joy on a weekly basis. Entrepreneurship, for all its great parts, is hard: it can be lonely, demoralizing, and plain bang-your-head-against-the-wall frustrating. Celebrating the small wins is what keeps me motivated and reminds me of why I'm doing this in the first place. Back in 2017, I wrote a piece for Fast Company on the importance of encouraging women to tout each other's accomplishments, especially in public forums like Slack. Even though we're a small team at Renewal Mill, we continue this tradition.
Photo: My all-female team at HubSpot when I ran the women's diversity program for them globally
Help us get to know YOU. Lightning round: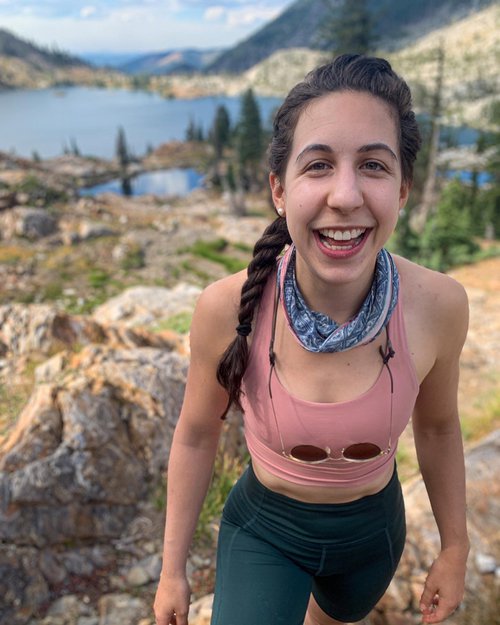 What's the last new food you tried? - Brooklyn Delhi's Roasted Garlic Achar. I'm obsessed (and love supporting another female founder Chitra Agrawal)
Fave workout? - HIIT classes at my local women-owned & Black-owned Oakland gym Truve or weekend hiking!
Best vacation ever? - Ever ever? Hmm… Vietnam was hard to beat. Amazing food, gorgeous scenery, mountains, ocean, it's all there.
Last book you read? - Uncanny Valley. Tbh it hit a bit too close to home for me, having worked in big tech for a time. Thankfully, I have not had Anna Wiener's SF experience so far. I love the Bay Area and especially the vibrant food community here.
Podcast you keep up with? - As of this summer, In Good Hands, a podcast by Peter Levin bringing optimism back to the climate discussion by highlighting the innovators and ideas working to change the future
TV series you keep up with? - Ooo, I don't have Netflix and rarely watch TV, but I try to watch John Oliver's Last Week Tonight updates when I can. He may be my favorite political pundit.
Newsletter you look forward to getting? - I look forward to getting Food + Tech Connect in my inbox every day, and also Pineapple Collaborative's newsletter. And, of course, Parsnip's newsletter.
One word you hope your employees use to describe you? - Empathetic. I hope my team knows I'll always go above and beyond to support them because really, what are we or our companies without people and the relationships that bind us.
Photo: Me in my element
You can find Renewal Mill products online at www.renewalmill.com, Amazon, Good Eggs, Imperfect Foods, Misfits Market, and more. If you're based in Northern California, you can find us at Whole Foods Market and a number of Bay Area favorite specialty stores. Want to bring Renewal Mill products to your neighborhood? Reach out at info@renewalmill.com or @RenewalMill. We're always looking for new partners who want to use upcycled ingredients!