A Founder's Story: Michelle Pusateri from Nana Joes Granola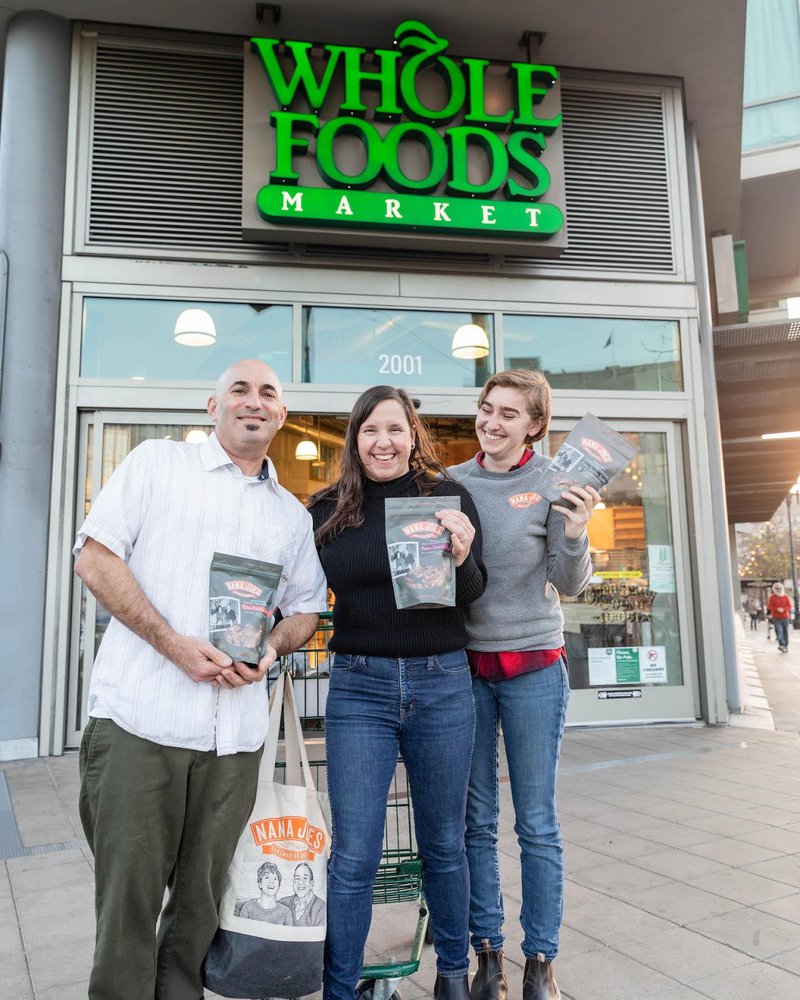 This week's post comes in the form of an interview with Michelle Pusateri the founder of Nana Joes Granola. If you live in the Bay Area and are a foodie, you have probably heard of them! Learn more about what inspires the brand from surfing to liveable wage jobs and how they are coping during COVID-19.
How did you come up with the idea for your brand?
While learning how to surf I would often get out of the water and crave a bowl of granola, but wasn't able to find the perfect blend. Many granolas on the grocery store shelves were overly processed, loaded with refined sugars and most importantly not Gluten Free. Being a pastry chef I started to make my own granola and loved the idea of using organic and local produce to create unique blends sweetened only with Maple Syrup! What started as a way to sustain my surfing habit quickly turned into feeding friends and family and eventually the whole neighborhood.
Who inspires you as a founder?
My father, Tony, who is pictured on each bag of granola is my biggest inspiration. He worked hard but even when he had nothing to give he gave more. He was a great businessman and an amazing father who I will always look up to.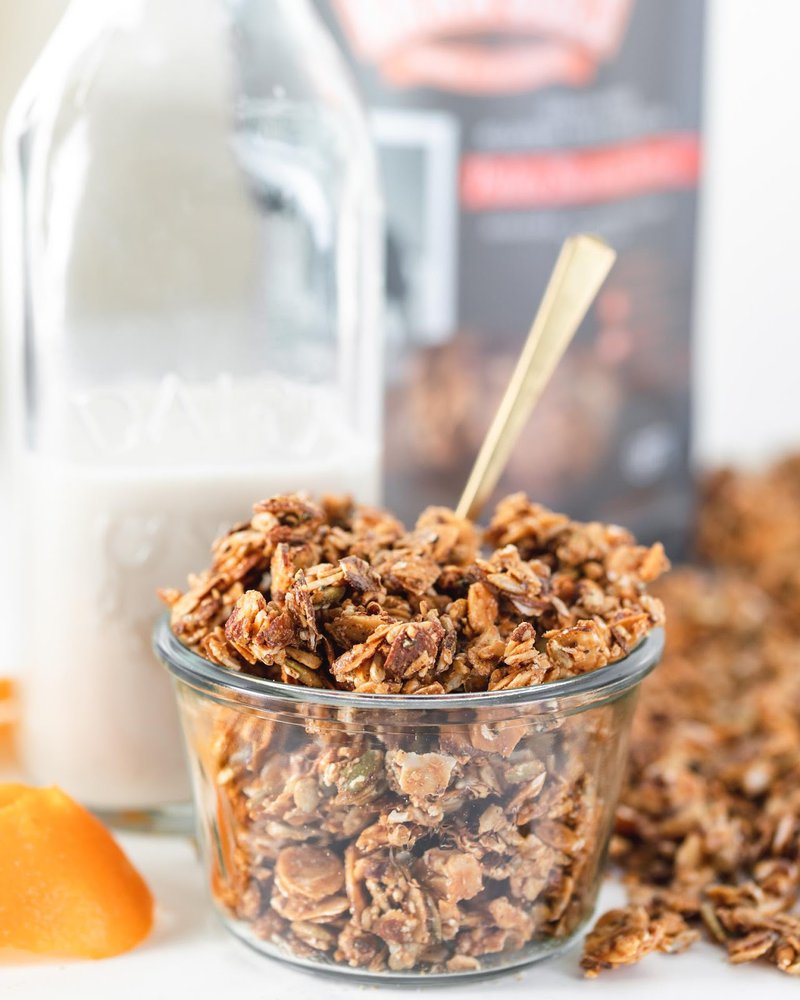 What are you most proud of with your products? (like a certification, giving back component, etc.)
From inception the goal of Nana Joes Granola has been to provide livable wage jobs in San Francisco and to create EPIC granola that not only sustains you through long runs or surf sessions but positively impacts the community around us. We are an SFMade business and aim to support living wage manufacturing jobs in San Francisco, and industry that is slowly dying. We also ensure all of our employees are able to advance their position so they never have to work an entry level position again.
Why do you tell customers your products are the best?
Our products are the best because we use All Natural Organic ingredients sweetened with just a touch of Organic Maple Syrup. Our granola blends don't need preservatives because we bake our products fresh everyday to ensure every bite of Nana Joes Granola is perfectly crunchy and fresh. Our blends are a perfect every day breakfast that will get you through early mornings, 5 mile runs, or long surf sessions.
On a weekly basis, one thing that brings me the most joy is ______
Coming into work and seeing the vision I built from a dream, it brings a smile to my face everytime.
Help us get to know YOU. Lightning round:
What's the last new food you tried? JEM Almond Butter with Cinnamon and Maca
Fave workout? Barry's Bootcamp tied with Yoga.
Best vacation ever? Hawaii with my Husband
Favorite Podcast? Masters of Scale and Food Biz Wiz
TV series you keep up with? Queer Eye
One word you hope your employees use to describe you? Fun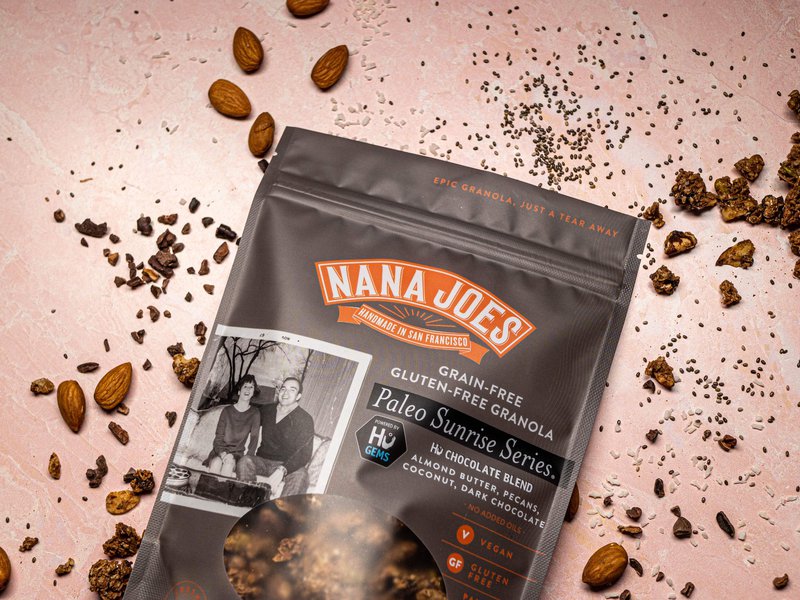 Covid-19 Questions:
What are some ways you're staying mentally healthy during this time?
Lots of at home yoga and cooking! Dani Pomplun, one of my favorite yoga teachers and friends, has some great free resources for at home yoga that will leave you feeling refreshed (and a bit sweaty) . I've also been video calling family and friends which lifts my spirits after a long day in the kitchen.
How have you changed things up and pivoted as a business during this time?
Things are changing quicker than we can keep up! We have almost entirely lost our wholesale accounts, but thankfully we have diversity in our business which has allowed us to keep on baking. We are switching focus to our retail products and have seen an overwhelming amount of support from our community. Online orders tripled overnight, which is amazing to see, but required a large pivot to keep up. We have started implementing shorter work weeks to reduce labor costs and reaching out to new clients and organizations to see how we can help our community.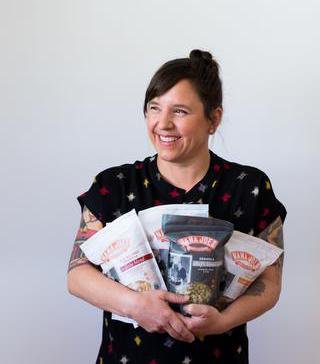 Where To Find Nana Joes
Nana Joes Granola can be found at all Northern California Whole Foods Locations, Molly Stones, Bi Rite, Faletties, Hu Kitchen, Union Markets, and Erewhon. Nana Joes Granola can also be purchased online at Nanajoes.com or Amazon. Follow us on Instagram for news about discounts, new blends and a peek inside our kitchen.