Gift Guide | 9 Partnership Gift Boxes To Give In 2021
Over the past few days, our inbox has been flooded with announcements of seasonal gift boxes launching and we are thrilled to see it! Collaborative gift boxes are an all-around win-win. The brands come together to make a gift that is greater than the sum of its parts. The gift-giver gives something curated and meaningful without having to piece it all together themselves. And, the recipient gets something that has been selected for them with thought and care every step along the way. 
These 9 gift boxes are all from Parsnip members and are all available for this holiday season! And, if you think I was able to write this without purchasing 1 or 2 (or 5 or 6) already for my loved ones then think again!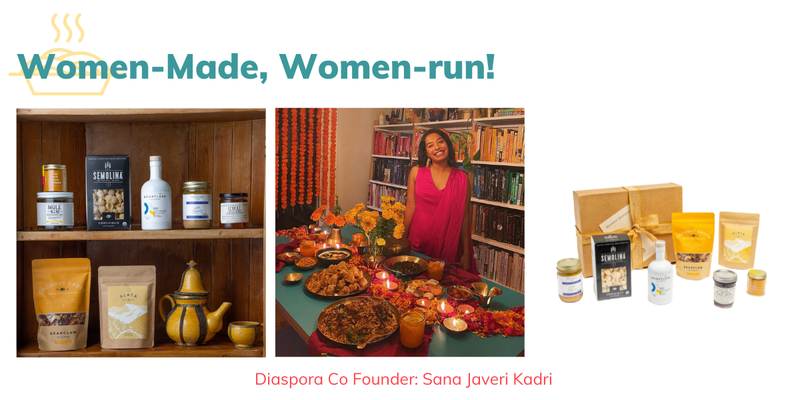 Women-Made, Women-run!
Narrative Provisions x Brightland x Ground Up x Bearclaw Kitchen x Alaya x Guelaguetza x Semolina x M. Greenwood Jams x Diaspora Co:  Talk about a squad. These female-founded brands all partnered together for this epic gift box perfect for any foodie. Olive Oil, pasta, quality turmeric, jams … the list goes on and it includes a salted eggnog flavor cashew and coconut butter, so I am all in! And if that wasn't enough? Each box purchased allows Narrative Provisions to donate $20 to Accion Opportunity Fund to support small business owners of all identities. 
Who we're buying it for: Just about everyone who loves to spend time in the kitchen would appreciate the all-star ingredients in this box! Know an incredible female-identifying home-chef? They will surely love it.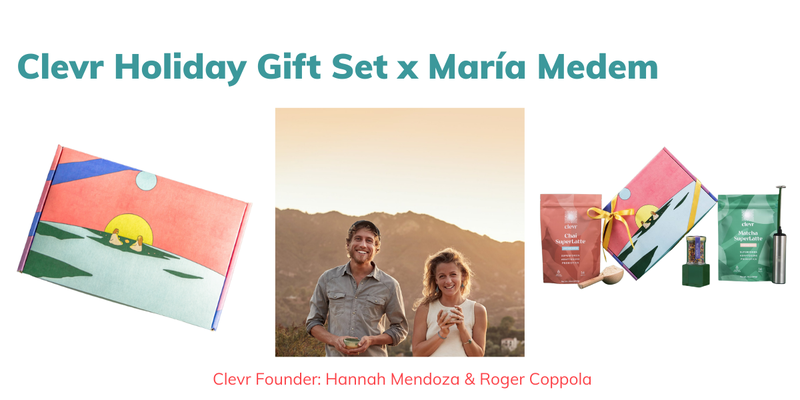 Clevr Holiday Gift Set x María Medem
Clevr x María Medem: There are so many incredible things about this partnership! Let's talk about the box first: a limited edition design by surrealist Maria Medem. To me it feels so refreshing, hopeful, and full of friendship. Every box purchased donates $1 to support indigenous food sovereignty projects, which you can read more about in the product description. The box comes with your choice of two Clevr blends + frother + scoop + hand-picked CA flower sprinkles. 
Who we're buying it for: This is the perfect gift for the latte lover in your life. My mind immediately went to my best gal pal, who lives way too far away, and I would love to be sharing a cuppa with - like the friends on the box.


For The Coffee Connoisseur 
El Guapo x Congregation Coffee: Chicory and pecans - does it get more Louisiana in the winter than that? El Guapo has paired their Good Food Award winning Creole Orgeat syrup (made with spiced pecans) and Chicory Pecan bitters with their neighborhood roasters Chicory coffee. The pecans were grown on the farm of the Uncle of the founder, Christa Cotton's! This is just calling out for a cozy day of coffee and cocktails in front of the fire.
Who we're buying it for: Being from Louisiana and a New Orleans lover there's a lot of people this gift box comes to mind for! Fellow New Orleans lovers, coffee fiends, and home cocktailists. Know someone who is the trifecta? Order it for them now!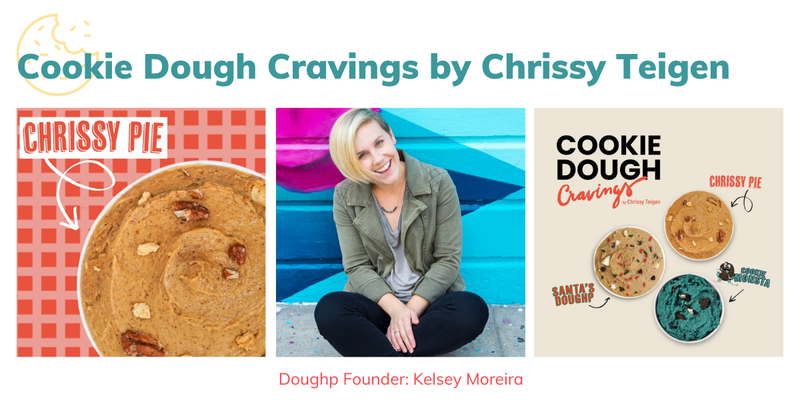 Cookie Dough Cravings by Chrissy Teigen 
Cravings by Chrissy Teigen x Doughp: Together, Cravings by Chrissy Teigen and Doughp turned Chrissy's top holiday recipe into a cookie dough flavor. The flavor they made? Sweet Potato Streusel Pie. I'm intrigued! Combined with two classic cookie dough flavors this gift box is the chef's kiss. Definitely ordering as a unique dessert for this year's friendsgiving.  
Who we're buying it for: This gift box is perfect for the Chrissy Teigen megafan or pop-culture aficionado in your life! We all know one. Make their holiday!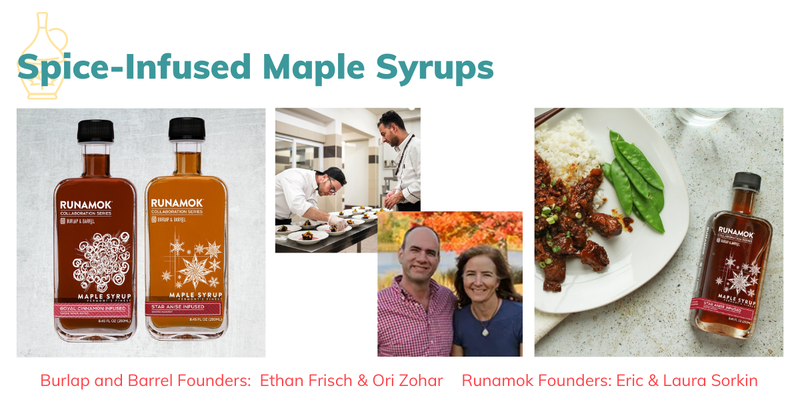 Spice-Infused Maple Syrups
Burlap and Barrel x Runamok: Burlap and Barrel's founders, Ethan and Ori, are the all-stars of partnerships and collaborations in the food world. Their sustainably and ethically sourced spices combine perfectly with so many other makers. Runamok maple syrup is no exception with their quality syrup, social mission, and sustainability. This Royal Cinnamon-infused Maple Syrup and Winter Harvest Star Anise-infused Maple Syrup duo sounds like everything this holiday season needs. And any Elf fan would know, Buddy would approve.
Who we're buying it for: The one with the waffle maker - in our family it is my husband; he is avid about Sunday waffles. And, looking at Runamok's website they share so many recipes for everything from cocktails to marinades that you could gift this to the foodie on your list and they would likely have nothing like it!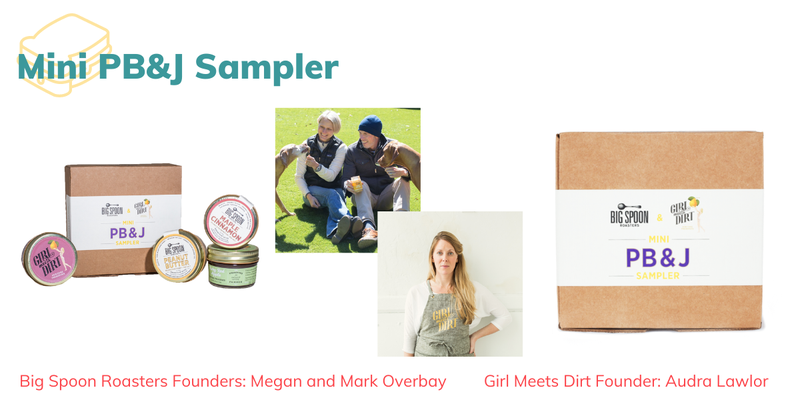 Mini PB&J Sampler
Big Spoon Roasters x Girl Meets Dirt: Peanut Butter and Jelly sandwiches are a nostalgic staple and I love that Big Spoon Roasters and Girl Meets Dirt are elevating them with their small-batch preserves and nut butters. Each box has two seasonal preserves and two complementing nut butters. Right now? We're looking at Ruby Red Apple and Italian Plum preserves (yum!) plus Peanut Butter with Wildflower Honey and Maple Cinnamon Peanut & Pecan Putter. These flavor combos feel perfect for this cold weather! 
Who we're buying it for: I don't know about ya'll but I lived on PB&J post-grad both being on a budget and not quite yet having found my sweet spot in the kitchen. So I am eyeing this for the recent grads in my life - help 'em out and elevate those PB&J's.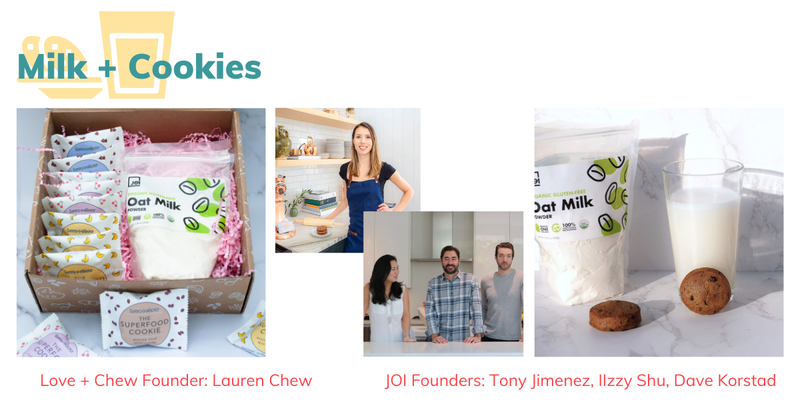 Milk and Cookies:
Love + Chew x JOI: Who doesn't love cookies and milk? It's a classic! This plant-based bundle is the perfect alternative to the classic pre-bed, or mid-present delivery, snack. Organic Oat Milk Powder from JOI is made with just one ingredient: organic, gluten free and sustainably sourced oats. Love + Chew's vegan cookies are the perfect consistency, gluten-free, plant-based, and protein and fiber filled. Match made in partnership heaven!
Who we're buying it for: Santa. Our nieces and nephews. Coworkers. Ourselves. Basically everyone!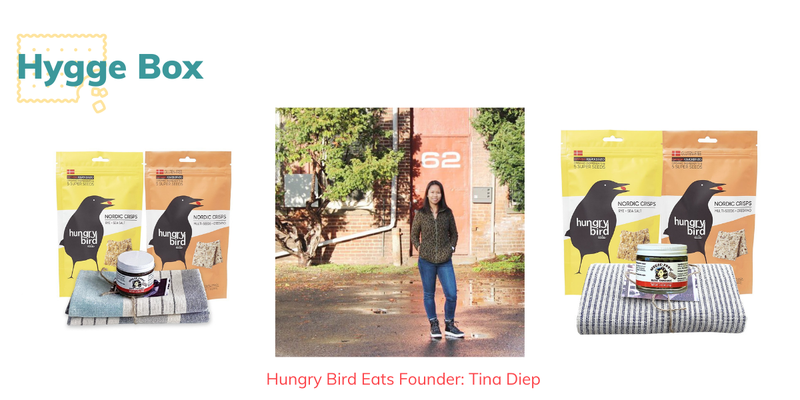 Hygge Box
Hungry Bird Eats x Spread-mmms x fair-fashionista: Hungry Bird Eats defines hygge as "a calm and relaxing time with family and friends. Best described as an atmosphere of cosiness that brings a feeling of comfort and joy often enjoyed with good food and drinks, warm blankets and candlelights." Hungry Bird Eats founder, Tina Diep, is Danish and embraces the concept fully down to the natural and whole ingredients she uses in her crackers. This hygge gift box includes handwoven tea towels, an olive tapenade spread with garlic and rosemary and two packs of Hungry Bird Eats' Good Food Award Winning nordic crisps. Perfect for cozying up on the couch or hosting the perfect night in with friends. 
Who we're buying it for: The host and hostess with the 'mostess'! This makes the perfect gift for anyone who might invite you over during the holiday season or for that person on your list who is always throwing some kind of shindig.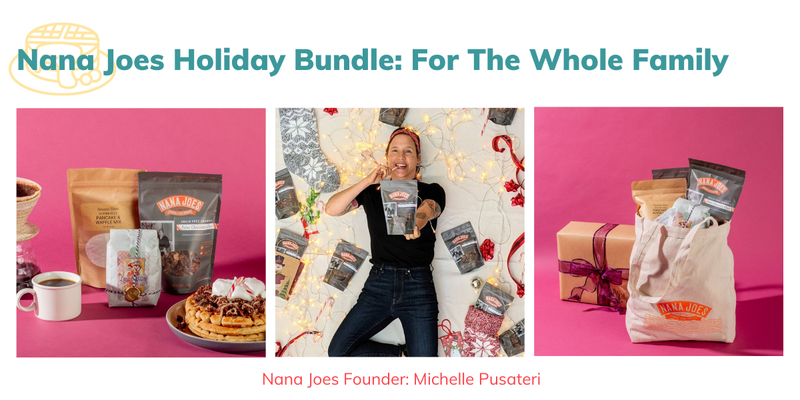 Nana Joes Holiday Bundle: For The Whole Family
Nana Joes Granola x Lady Falcon Coffee x Sprouted Heart: Kick off the holidays with this women-owned breakfast bundle! Who needs Santa when you have pancakes topped with peppermint chocolate granola with a cup of incredible coffee? All gluten-free, vegan, women-owned, and made in San Francisco! 
Who we're buying it for: Our Northern California friends or those that have travel plans to The Golden State in the new year - I love the idea of the whole family gathered around the table enjoying a breakfast of these badass brands! 
---
Want more from Parsnip? Follow us!
This gift guide was written by Emily Hines, a freelance brand manager for CPG brands.