How to Host a Successful Giveaway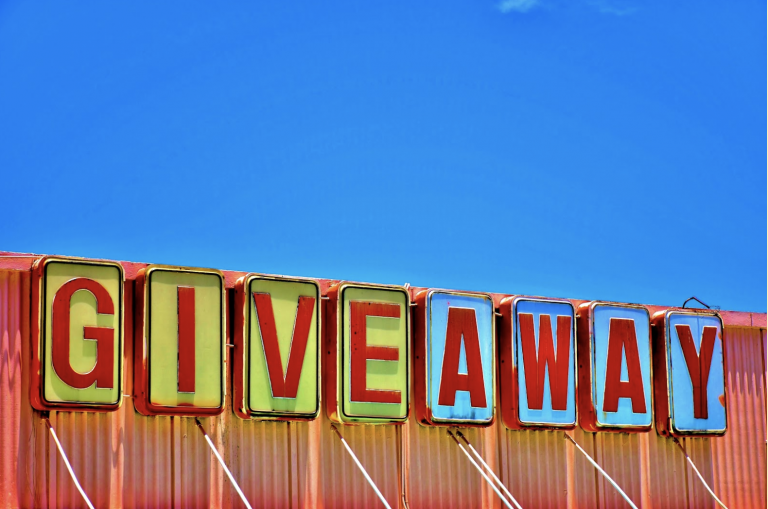 Oh, the ever-loved giveaway. They seem to be cropping up all over Instagram these days. Maybe you've already decided to dive into this world, or maybe you're not even sure where to start on your journey to hosting a successful giveaway.
Our hope for this post is that you leave more confident to run your own giveaway with a partner or two, and that you're better equipped with the steps to send you in the right direction for success.
Let's breakdown what we are going to look at:
Choosing the Right Platform
Choosing the Right Partner
Hosting A Successful Giveaway
Choosing the Right Platform for a Successful Giveaway
There are several types of giveaways and knowing your own goals is going to help you settle on the best place for hosting a successful one.
The two types of giveaways we are going to look at in this post are web based and social media based.
Web Based Giveaways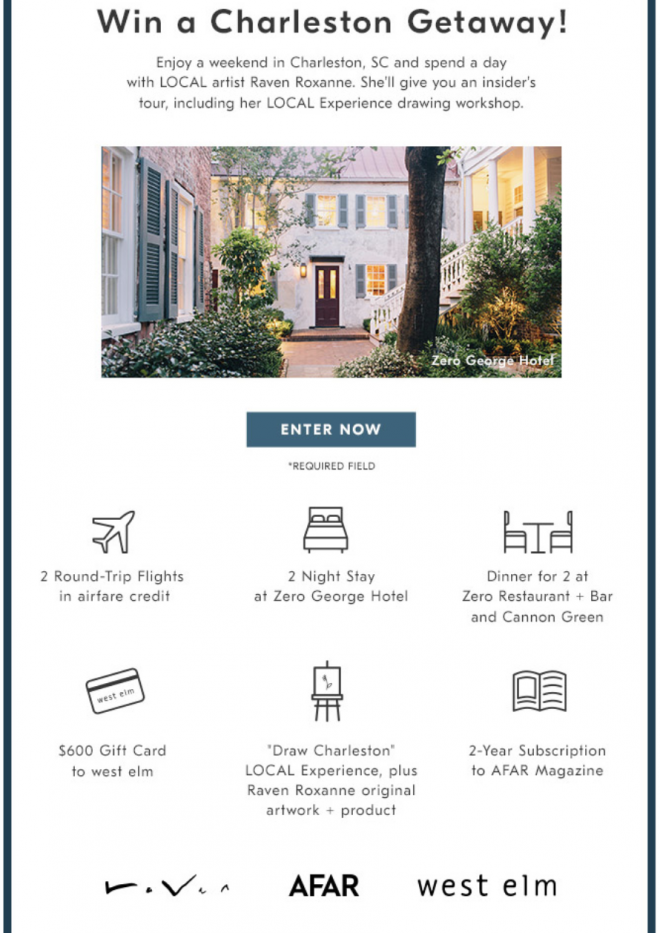 What are they? These are giveaways that are typically on a dedicated landing page within one or both partners' website. Participants typically have to enter (at the very least) their name and email address. Both companies share the giveaway with their email lists and often share the link to the landing page on social media.
Why host one? Hosting a successful web-based giveaway has a few perks over a social media giveaway:
Lead Generation - The first is that (with a nice disclaimer) you are collecting email addresses for your own list from an assumably targeted list that your partner has already curated. Giveaways are just one of the lovely ways to capture leads in a way that is intriguing to your customers.
Trackable - You can more easily track your metrics here versus a social media giveaway. You can use the landing page to track exactly how many folks saw your giveaway, how they got to that page, how many of them signed up, the number of emails generated, etc. Trackability is key to hosting a successful giveaway, because it informs your engagement and how you might change your approach in the future.
Information - With the right giveaway platform (we will discuss some options later) you can make it mandatory that folks follow you on Instagram, enter their zip code, their age, etc - all helping you gather information on your customer demographic. Keep in mind the more information you require of them, the more drop-off you will get, since most people will enter because it is convenient and doesn't take a lot of time.
Social Media Giveaways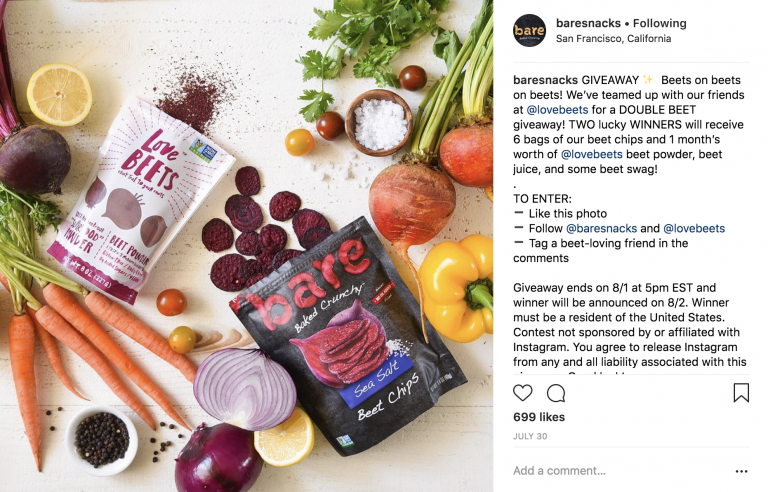 What are they? Social media giveaways are typically hosted on either Facebook or Instagram, and require participants to do some combination of liking, commenting, and/or following in order to enter.
Why host one?
Boost Social Following - The first is the most obvious benefit of hosting a giveaway in this manner. You are drawing the active and engaged followers of your partner to your own page for engagement and following.
Ease - Social media giveaways require less initial work than the web-based alternative. All you need are beautiful photos to post on your account, rather than a landing page and giveaway plug-in.
Choosing the Right Partner(s) for a Successful Giveaway
Now that you have pre-determined the goals you have for this giveaway in terms of where you want to generate leads, it is time to decide what portion of your audience you are trying to grow (and then pick the right partner to match). One key to running a successful giveaway is finding a partner that your audience identifies with.
Maybe one of your target customers is millennial women interested in health and wellness, but you are struggling to get your product in front of that audience. So, pick a brand (or brands) that targets that market really really well.
You don't want the essence of your potential partner's values to be too far from that of your own business though. Think of it as those venn diagrams our teachers loved so much in 5th grade.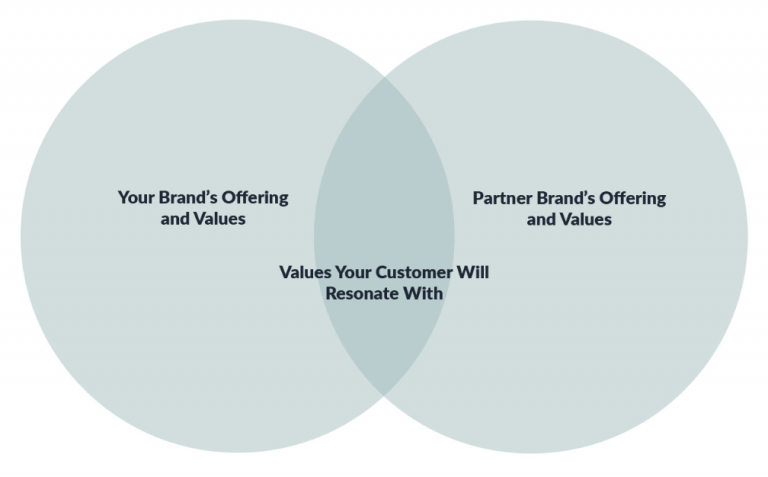 Don't be afraid to think outside of the box here, too. For example, if you are a small-batch, organic drinking vinegar and you have found that you have a lot of cocktail enthusiasts as customers, but you want to reach more health and wellness minded individuals too, maybe you choose to partner with an online yoga subscription. No competition there, and those folks are certainly going to fit the demographic you are looking to reach.
Questions to Consider When Choosing a Partner for a Successful Giveaway
How do they go about marketing on your chosen platform?
Is their Instagram beautifully curated with an amount of followers around or greater than yours?
Is their website user-friendly and something you would be happy to send your users to from your own platforms?
Reach out to your preferred partner (Parsnip is the perfect tool for that!) to communicate clear desires for the giveaway. Make sure throughout the process you are clear on who is tackling what tasks, what the expectations are, and cover all items below in advance. Establish what would make this a success for you both.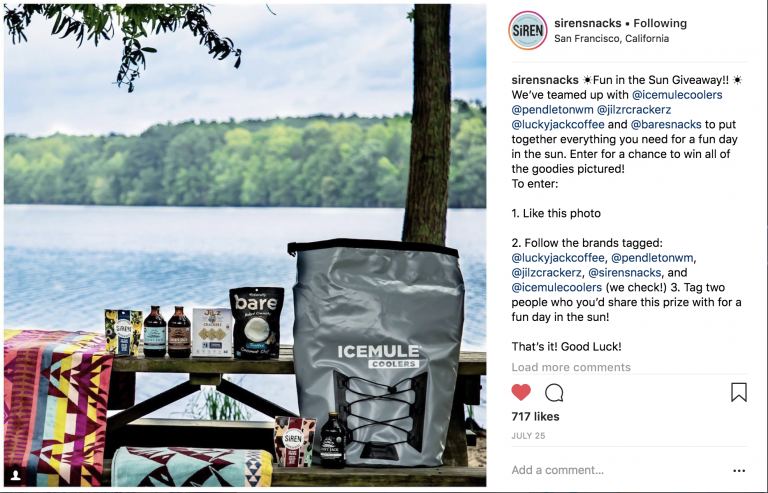 Hosting a Successful Giveaway
A successful giveaway looks different for everyone and every platform but there are some things that remain the same.
Web-based

Platforms: Communicated via a website or newsletter. Some of the best plug in options out there can be found here. Two of our favorites are Rafflecopter and Woobox.
Visuals: You want to hook the customer the second they get to that landing page so they are enticed to enter. This means a beautiful image of what you are giving away - make them want it!
Instructions: Within the plug in, or on the landing page you can list clear instructions for how to enter, deadline to enter, etc.
Disclaimer: Make sure you are including in the directions that by entering the giveaway participants are agreeing to sign up for all companies' email lists. (See a pro-tip on this below).*
Length of Giveaway: A week, with reminders
Sharing: All brands should share the giveaway through their email lists on the same day. Set clear guidelines ahead of time for how many times you each will remind your customers through email and social media.
Choosing a Winner: If you are going with a plugin, they almost always have have a random generator that will choose a winner for you.

Reach out to the winner via email giving them clear instructions on what you need from them in order to ship, and a clear disclaimer that if they do not respond within x number of days you will need to choose another winner.
Announce the winner through your email list in your next email to your customers!

Tracking: Give each and every company and person that is going to be sharing the giveaway a custom link to use on their social and email campaigns so you can track exactly how folks got to the landing page. Never created a custom link before? Here is an awesome tool. You can then use the backend tracking you have set up for your site to track how many of those folks proceeded to explore the rest of your website, and the analytics on your entry form to know how many people signed up.

Social Media

Platforms: Instagram or Facebook
Visuals: The image of your giveaway items needs to clear through the clutter of an already busy feed. Seeing multiple brands in a photo usually signals to a customer that a giveaway is in store for them, so make sure all of the brands are showcased in the photo.
Instructions: Make sure in the caption you are very clear on the directions for entering: Who do they need to follow? Do they need to like the image? When does the giveaway close? What exactly are they winning? They should have to leave a comment in order to be entered (you will see why below in 'Choosing a Winner.')
Disclaimer: Instagram and Facebook require that you alert your entrants that the giveaway is in no way sponsored or endorsed by the platform. A simple sentence explaining this will suffice in the body of the caption.
Length of Giveaway: 3-4 days
Sharing: Make sure all brands are posting the giveaway on the same day and that they are posting reminders - this helps create a ripple effect on social media.
Choosing a Winner: Copy and paste all of the comments on all applicable posts into a spreadsheet so that each comment is assigned a row number.

Search 'random number generator' in your preferred search engine and choose one that suits your fancy. Enter the number range corresponding to the number of entries, and let the generator choose your winner.
Reach out to the winner via direct message or leave a comment on the post asking them to message you. Give them clear instructions on what you need from them in order to ship, and a clear disclaimer that if they do not respond within x number of days you will need to choose another winner.
Announce the winner in a post or story!

Tracking: If you are not doing so already - take a minute to look at how many followers you currently have (pre-giveaway). You will be able to compare this number at the end of your giveaway to see the traction you created. Keep in mind not all of these folks came to your page because of the giveaway, but it is your best indicator.
Finally, ship the product to your winner(s) in a timely manner. Make sure you take the time to write them a note and present that package in a beautiful way - they are super excited to have won and you want to keep that excitement towards your brand at a high.
One last thing you can/should do: thank your co-partners. After all, without them you would not have been able to tap into this new audience that is now excited to follow along with your product and hopefully purchase it. Send them some of your product and a nice thank-you note to ensure you have made the best impression on the relationship.
*Pro-tip, set up a special funnel just for folks that have signed up for this giveaway and are new to your email list. It will ease them into your regularly scheduled emails in a nice way, and feel more targeted and curated than entering them into your regular sign-up funnel. Offer an incentive to buy, and you may have scored a new set of loyal customers.
Happy Giveaway-ing!