Interview with Cult Crackers: Visual Rebrand and Values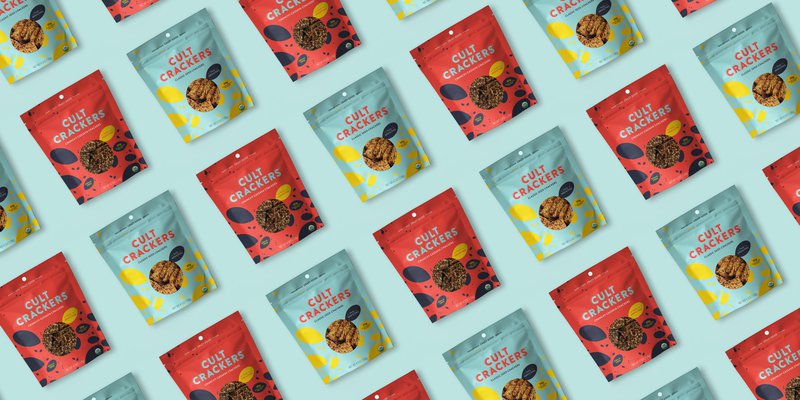 Cult Crackers recent rebrand is spot on, we're obsessed! They chimed in on how it went, when they knew it was time, and how their values were important to the process of redoing their packaging.
What drew you to start Cult Crackers?
Our daughters! Our paths crossed when our girls were in school together. Birgitta, who is Swedish, would make Swedish crackers and people would go crazy for them. Swedes have a tradition of baking crackers, while Americans tend to bake sweets, like cookies and cakes. Birgitta's homemade crackers went over big, and they just happen to check off many food trends - organic, gluten free, grain free, plant based, dairy free, nut free, sugar free, vegan, they're high in protein and fiber, and they taste so good.
At the time, Birgitta worked for her family's Swedish bakeware company and Dianna was working at Shutterfly. Birgitta then asked Dianna, a professionally trained baker, to help her start a cracker business. Together, we dreamed up this idea to make Birgitta's Swedish crackers with a healthy California twist, and our lives pivoted in a big way. Now our girls get to see their moms working hard and being passionate about building a food business from scratch.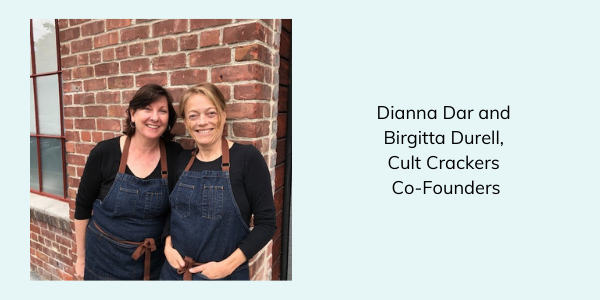 What values and certifications, labels, or other attributes does your brand have that you've built your business around and are most proud of?
From the beginning we decided if we were going to do this, we were going to do it right, using our business as a force for good. We use only the best quality organic non-gmo, gluten-free ingredients we can source, are certified organic (CCOF), mix and bake every batch of crackers by hand, package in sustainable packaging, pay our employees a living wage, and try to do things with care and intention, while also hustling our hearts out and following our passion. Being organic and gluten-free has its challenges. We found it impossible to source gluten-free organic corn flour and cornmeal so we have those organic ingredients milled specially for Cult Crackers in a gluten-free mill in Oregon, so there's no cross contamination.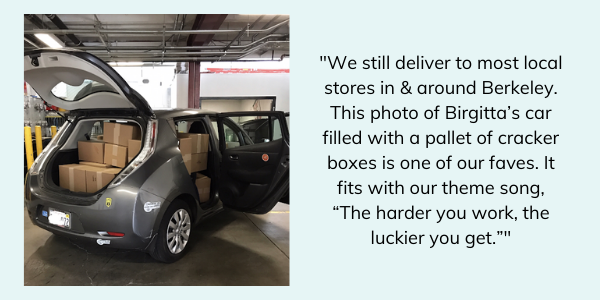 What sparked the visual rebrand? How did you know it was time?
Cult Crackers started out in a simple compostable deli container wrapped with a lovely Swedish folk-design label. We knew it was time for a new package when our compostable containers (made from corn product) melted on a hot day at the Berkeley Farmer's Market, and then when we started shipping to stores across the country we heard from retailers that our packages were popping open during shipping. We realized we needed to maintain the integrity of our product so that it stayed fresh, our packaging needed to be sustainable, and stand out on a crowded shelf, and that led to our rebrand.
How long did this take to come to fruition? When did the idea first come to mind compared to when it actually launched?
An important part of Cult Crackers mission, second only to making an insanely good cracker is sustainable packaging. It took two years to find something that would look good on the shelf and keep our crackers fresh. We're still testing compostable pouches, and as soon as something comes on the market that works for us, we hope to be back in compostable. We also offer several sustainable packaging options from glass jars (at some retailers) to compostable brown bags at the Farmer's Market.
What is your biggest learning from doing a visual rebrand? Best advice for anyone out there about to pull the trigger?
We got stuck on perfection, and that doesn't get you anywhere fast. My advice on rebranding is to take it as a wonderful opportunity to reimagine your brand, be brave and go big and bold.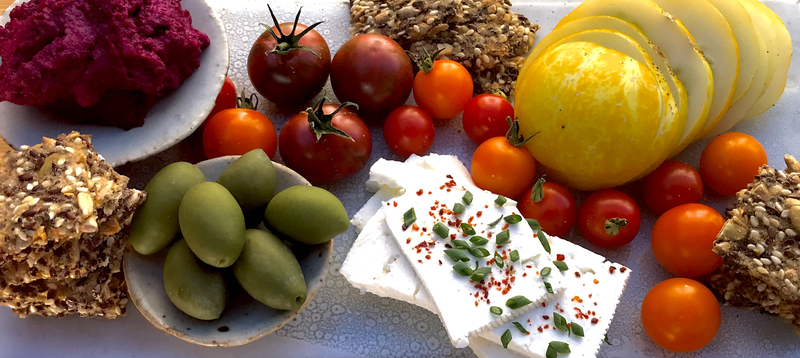 How much did your brand values come into play when you were determining the design of the new packaging?
When we first launched our brand three years ago we slapped a kraft label on a deli container and within a month we were on store shelves, though we also blended right into the shelves and didn't stand out. Our rebrand gave us the chance to think about what values are important to us and how we're passionate about making something that nourishes people in so many different ways.
Anything in the pipeline you are looking for a partner on that our members might be able to help with?
We enjoy partnering with like-minded brands doing giveaways. As an emerging brand we want to make it as easy as possible for bigger brands to say yes to working with us. We offer to do everything - choosing the theme, doing the timeline, taking the photos, and writing the messaging, so all our partner needs to do is approve it..
What wellness, food, or CPG trend are you most into right now? And what can you just not seem to get into?
Nothing's off the table. I eat and drink everything!
Help us get to know YOU. Lightning round:
What's the last new food you tried? Purslane! I've been tossing it into everything from eggs to salads. It has a good bite.
Best vacation ever? A six-month solo trek through South East Asia.
Last book you read? Charlotte's Web
Podcast you keep up with? Ali Ball's Food Biz Whiz. Everything I've learned about starting and running a CPG business I learned from Alli. She gives the best advice.
Newsletter you look forward to? Heath for it's simple lifestyle photos and good clean copy
One word you hope your employees use to describe you? Passionate
Self-care tip during quarantine? Walking has been my refuge. In the evenings I'll hand-deliver our local online orders, climbing the secret staircases into the hills or walking the flats discovering new Berkeley neighborhoods.
Pantry staple you stock up on? Garbanzo beans! In my house we eat them roasted and spiced up, out of hand, in salads, soups and stews, and we always make our own hummus.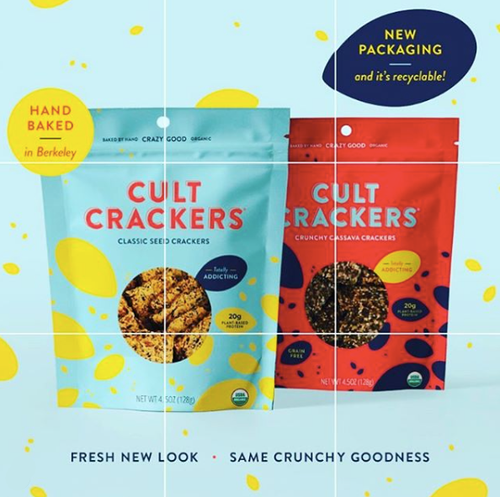 Cult Crackers can be found in 130+ stores. Find a store near you here or online @cultcrackers.com.
Where to find Cult Crackers online:
Website : https://www.cultcrackers.com/
Instagram: https://www.instagram.com/cultcrackers/
Facebook: https://www.facebook.com/cultcracker
Graphic Designer: Leesandra Graf