Things You Can Do Right Now For Your Food Business Despite COVID-19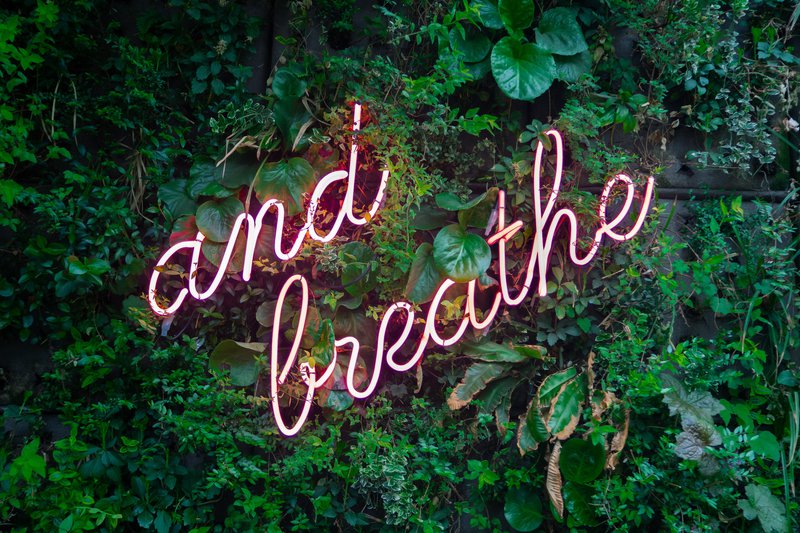 Guest blog by Allison Ball, a former grocery buyer turned wholesale consultant. Alli helps emerging brands through Retail Ready®, her online course on wholesale, and her podcast, Food Biz Wiz®.
Hey there foodpreneurs!
The past few weeks have been filled with ups and downs in the packaged food industry: from Expo West being postponed and then canceled, to seeing sales increase in many shelf-stable and wellness categories as Americans are stocking up on groceries in preparation for "shelter-in-place" or social distancing precautions, to watching our store shelves become bare from overshopping, to seeing brand's sales dry up, as their products aren't deemed "essential" right now. It's been a wild ride.
While none of us know what the future holds or how long we're going to be adjusting to these shifting shopper behaviors, we do know this: we, as nimble food entrepreneurs, have to think strategically, make changes, and keep moving forward. With that, I'm sharing four things that you can do right now for your food business despite COVID-19 in order to keep building your packaged food business throughout the next few months.
1. Nurture your existing wholesale accounts.
This is the MOST important thing to do. While now is NOT the time to reach out to new accounts and try to pitch into new stores - it IS the time to show up as the most reliable partner that you can for those existing relationships that you do have.
We're seeing grocery sales skyrocket right now, as Americans are spending more time at home and are making the decision to cook instead of going out to restaurants. Your existing accounts are working hard to keep up with the demands of their shoppers, and the more you can help those Buyers keep their shelves stocked, the better.
How can you be a great partner to your existing accounts right now? Perhaps you add in additional delivery days so they can receive inventory more frequently. Or when you DO deliver, offer to stock the store's shelves with your product instead of handing it off to their busy team. You'll take one task off their plate and guarantee that your product makes it to the shelf. When you do communicate with that grocery staff, show up calm, gracious and appreciative of the hard work that they're doing on the retail floor - they can use all of the moral support that we can give them right now!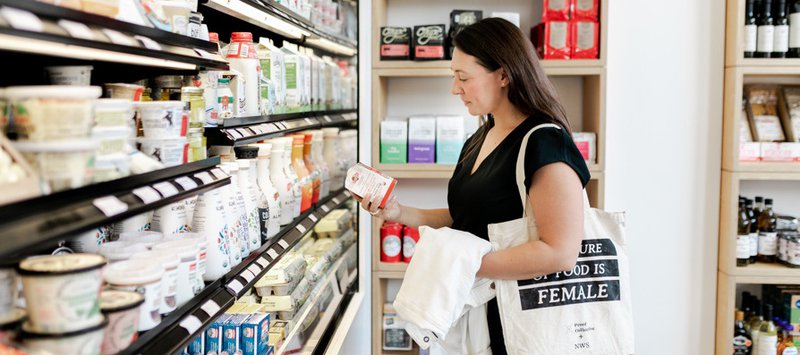 Photo Credit: Come Plum
2. Sell to your existing customers through alternative channels.
Grocery store sales going great? Fantastic. As I mentioned, keeping those accounts happy should be your first priority. From there, ask yourself, "Where else and how else are people getting their groceries right now?"
We're obviously seeing a huge rise in online ordering and home delivery of groceries - again whether that's delivery of groceries from a brick & mortar store through a service like Instacart, or through online wholesale platforms like Thrive Market, Bubble Goods, Jet.com, and local businesses, like Good Eggs. While eCommerce Buyers are busy as well, they're not running floor shifts like those Buyers who are in brick & mortar locations so you might find wholesale buyers on eCommerce platforms to be more responsive right now.
In addition to online Wholesale & eCommerce, brands are having high sales through meal kit delivery programs where you're an essential ingredient in a recipe, and some food service accounts are still moving large numbers, depending on the audience & venue. As you consider which channel is right for your brand, think about where your audience is, where they're currently getting their food, and how you can show up as a solution in that channel. Finding these new and alternative channels is just one of the things you can do right now for your food business despite COVID-19
3. Use this time to ramp up your online presence, even if you're not selling via eCommerce.
Some of my Retail Ready® brands were wondering if it was distasteful to post on social media when so much of the globe is in panic mode. While it might seem trite to post on social media about your delicious granola or spicy pickles or almond butter - it's not. People are home from work and school and are spending lots more time online and on social media, and they're looking for entertainment, empathy, and helpful content.
If you show up as your AUTHENTIC self, and provide a solution to them - whether their problem is boredom, or not knowing what to cook for dinner in under 30 minutes, or how to boost their immune system, or how to get kids interested in veggies - you're helping them. People are out there LOOKING for solutions, and if you can provide one - go for it.
We're all looking for distraction right now, and are adjusting to this period of unknown. If you show up as a positive presence and give them something to CONNECT with - you'll win here.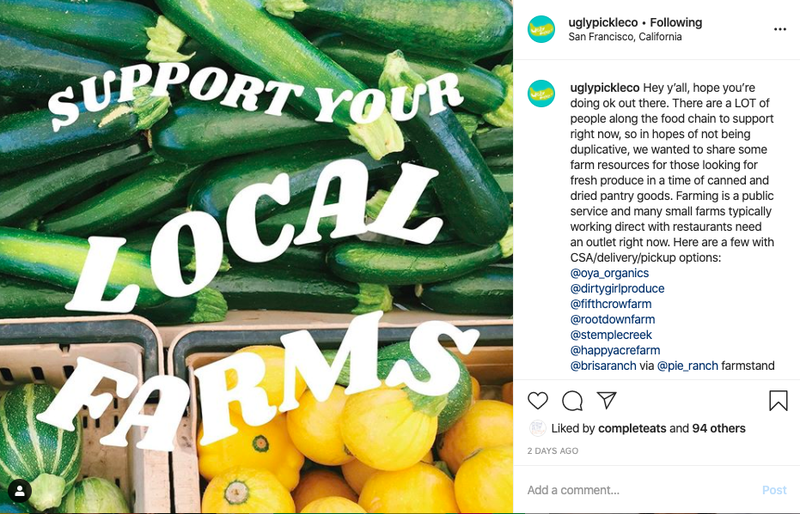 4. Work ON your business.
As a foodpreneurs, we're always craving more time in our day, and more time to work ON our businesses. If you've shifted and all of a sudden you aren't spending the majority of your time pursuing new wholesale accounts - what CAN you be doing? What have you constantly been pushing to the bottom of your to-do list? Use this time to get to the business things that you keep putting off.
Maybe that's finally getting in-depth with your financials, or it's finally getting your promotional materials in line - perfecting your sell sheet and your Buyer pitch so that WHEN Buyers open their doors again and are making up for the lost time in bringing in new products, you'll be ready to land on that shelf. Or perhaps it's finally, finally, finally setting up your email automations, welcoming new subscribers to your list when they join via your website. Or maybe you re-photograph your products for your website, or work on your target audience, and understand who you're selling to, and why they buy your products.
There are so many things that you can work on in your business, and now is the time to do it. My Retail Ready® students are using this time to complete their lessons and work through modules, connecting with their peers in our student group, with me on our live coaching calls, and with the industry experts that I bring in. We've got a great community in there, supporting each other during this time.
So I'll ask you: what are things you can do right now for your food business despite COVID-19, and how can you get the support that you need to position yourself to come out on the other side of this?
As I said at the beginning, Food Entrepreneurs are a creative, resilient group of people. While I don't know what the next year will look like for us, I do know that food is a staple that comforts, entertains and nourishes our communities. We can provide relief and nourishment during these disruptive times, and it's our responsibility to build our businesses to do so.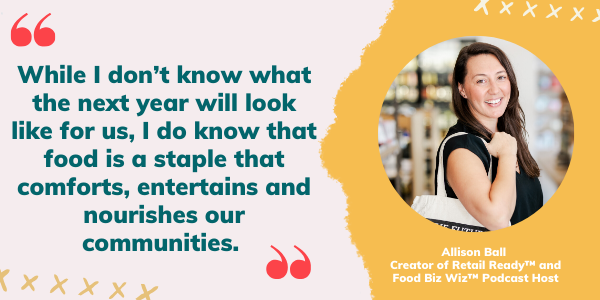 Hey, I'm Alli - thanks for reading today. If you'd like to keep in touch, find me weekly on my Food Biz Wiz® podcast, which speaks directly to the challenges of growing your packaged food business, jump on the waitlist for Retail Ready® to work ON your business during these next few months, or send me a DM and introduce yourself on Instagram. It's an honor for me to help brands with your wholesale strategy, based on my decade of grocery buying experience, and I'm here to support you during this period. Please keep in touch!