Top 5 Parsnip Partnerships of 2019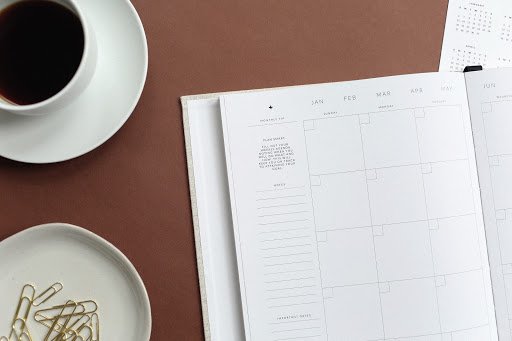 Welcome to our first blog post of 2020! We cannot believe that we are here already - 2019 was our first full year of building Parsnip. When reflecting back on the year there is so much progress that was made and lessons that were learned by our team. But, even better, there were so many amazing partnerships! Here are our top five Parsnip facilitated partnerships from 2019.
HERLA x Kalumi Beauty x Project Full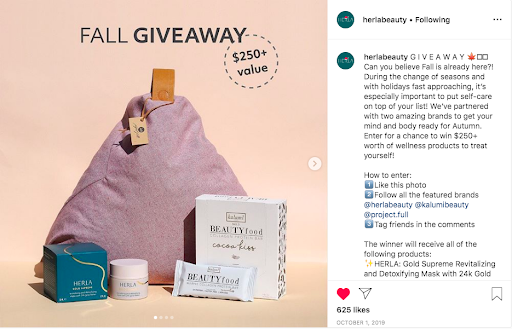 What was it?
Why it was a good match?
Values: HERLA was looking for brands to partner with that had similar values to their own, one of which was transparency. The brands we suggested they work with shared their missions, ingredients, and processes with their customers. HERLA knew that this was not only a value to the company, but to their customers as well -- making the giveaway more intriguing.
Theme: Rather than looking for products in the same category (skincare), HERLA decided to base the giveaway around a theme - self-care. This allowed them to tap into audiences in the food and mindfulness spaces; arguably, spaces that have a similar psychographic to their own clean-skincare using customers.
Dessert Goals x Parsnip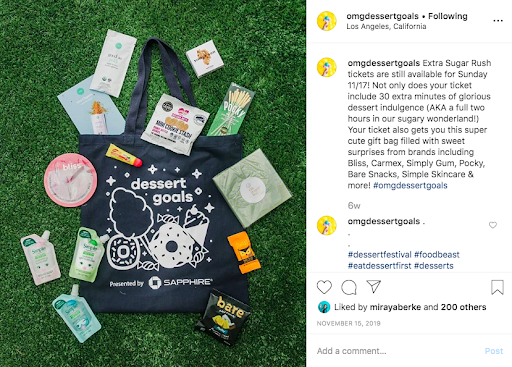 What was it?
Dessert Goals is a festival hosted in several cities bringing together the locale's top desserts and sweet vendors.
For the Fall 2019 LA event Parsnip placed several brands in the gift bags as well as on the Salty Snack Bar.
Why it was a good match?
Surprise and Delight: From the point of view of the event, Dessert Goals, having Harvest Snaps provide product for the Salty Snack Bar was a way to surprise and delight event attendees. They were expecting tons of sweet treats, but likely not anticipating a snack bar of salty treats to compliment them. Dessert Goals was also able to curate a gift bag featuring brands and items that their event attendees would use, discover new brands through, and love.
Standout: For Harvest Snaps, the Salty Snack Bar was a way for the brand to stand out from the crowd of sweets and be a memorable name and experience for the attendees.
Rhythm Superfoods x Coconut Bliss x Emily Hines Photography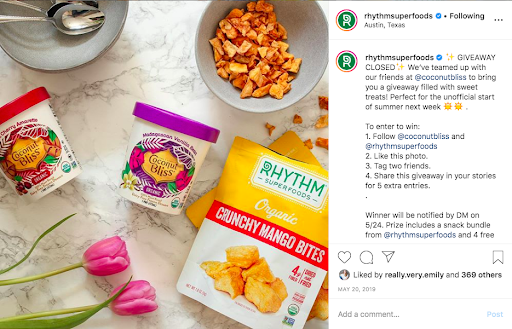 What was it?
Why it was a good match?
Creative Use Case: Two food brands partnering together is not rocket science, but what makes this giveaway a top five partnership for us is that it is a creative use case that consumers may not have thought of. Rhythm Superfoods was interested in partnering with Coconut Bliss to showcase their dried fruits as a possible topping on ice cream -- delicious! And with Emily Hines' experience working in CPG in a variety of creative roles, her photography and ability to showcase these products together as she built her photography portfoliio made it a win-win for all three partners!
Common Values: Both Rhythm Superfoods and Coconut Bliss are plant based products with clean ingredients making their values perfectly aligned for a giveaway that each of their respective audiences would be interested in.
JOI x Burlap and Barrel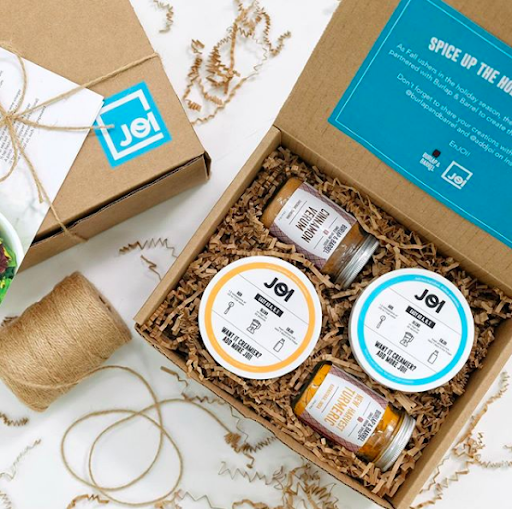 What was it?
JOI and Burlap and Barrel partnered on a gift set featuring JOI's nut milk pastes and some of Burlap and Barrel's spices that are perfect for making flavored drinks together.
Why it was a good match?
Timing: This gift set was perfectly timed before the holidays making it the perfect gift for a friend or loved one, OR a way to try a new product for the customer themselves.
Creativity: JOI and Burlap and Barrel included a few recipes in the gift set making it easy for customers to see the value in purchasing -- they could try a new product alone, pair it with an old favorite, and have unique ways to do so all in one place.
Harmless Harvest x Ladies Get Paid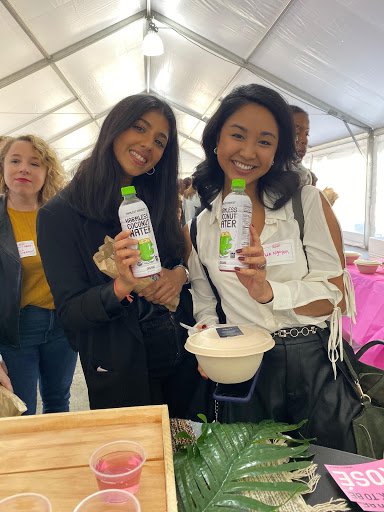 What was it?
Harmless Harvest coconut water was able to sample their products at the Ladies Get Paid, Get Money Get Paid event.
The event was a one day conference for women to encourage them to rise up at work.
Why it was a good match?
Demographic: Harmless Harvest found that the women in attendance at the conference were a good demographic match. This touches on one of the key components of event marketing as a brand: find your customers where they, when they are not purchasing your product. This is key when looking to partner with an event!
Foot Traffic: It was a balanced event in terms of event attendance. Harmless Harvest was able to sample their product to about 400 women, but it was not so busy that they could not converse and educate on their product, which was important to them.
Feeling inspired and ready to partner in 2020? Sign up or login to find your next match!