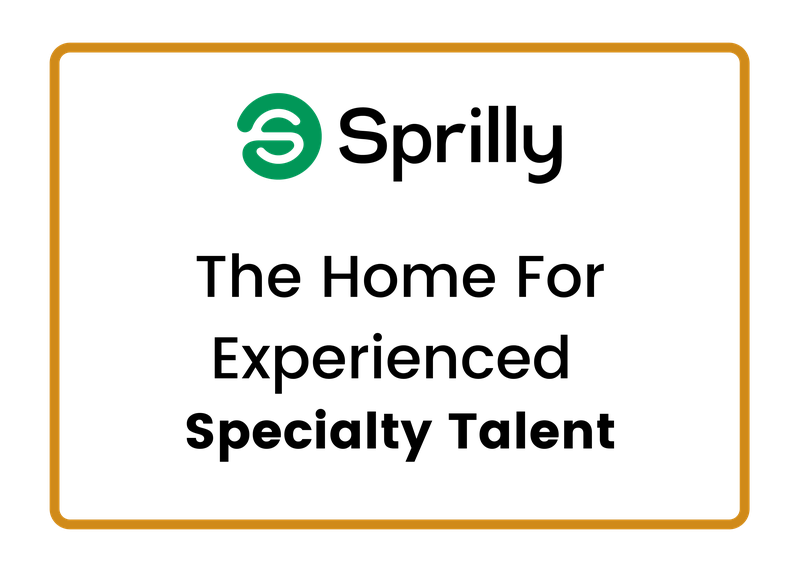 Last year, as the world shut down and challenged where we were headed with Parsnip, we spent a lot of time trying to understand what we could bring to life for not only our Parsnip member brands, but our several hundred service providers, event producers, influencers, and agencies. It was through those interviews that we learned that the service providers that support better-for-you brands – the consultants, contractors, small agencies, and freelancers or "experienced specialty talent" – really don't have a place to be discovered digitally. So, we built Sprilly for them. Read on to learn more about how brands and experienced specialty talent can use Sprilly!
Sprilly for Experts
Within the Consumer Packaged Goods, or CPG, industry, there is a lot of expertise required to bring a product-based business to life. Think about packaging, shipping, retail placement, Amazon placement, fulfillment, e-commerce shopping experience, visual depiction of the product, etc. The detail and nuance required to build and grow a product-based business in 2021 is immense. Ultimately, this means that a strong expertise is needed to level-up a product-based business, as the brand grows and scales. The channels the product may be sold in could change; the brand may get rebranded; they might try to reach a target customer in new social channels. The list goes on. And those are all opportunities for a brand to bring on experts to help them grow to the next stage of their business. In addition, in a lot of cases the brand doesn't want to bring on a full time employee, they want a contractor or freelancer or small agency for just a defined project or period of time.

The shift to remote work and an expanded view of what a 'career' means in 2021 also means there are more experts that have had time working in bigger CPG companies before launching their own service. This is so exciting, because brands have a tremendous opportunity to learn from the experts that have 'been there, done that': they finally have access to a deep expertise that in prior decades would have just stayed with the bigger companies for the duration of an individual's career.
Sprilly for Brands
Unfortunately, all of those experts that have created their own websites and create amazing content on their own social channels to get the word out about who they are and what they have done and what they can do: well, they end up getting a little lost. They are lost in a sea of dozens of competitors in Google search results, or they are waiting for a referral from a prior client. There isn't a way for them to 'hang their shingle' and let the world know that they are accepting new clients or have expanded their services. And brands that might not be ready for them today don't have an easy way of discovering them tomorrow.

Time gets wasted every time a brand has to ask for help just to find a few experts to interview for a potential project. Time gets wasted every time a brand gets a referral that's just not quite the right fit because the person that referred them didn't fully understand what they were looking for. We heard over and over that the brands just want a bit more self-service for getting to potential experts that had availability to work on what they needed them for. We know brands will still want to interview, connect with the potential expert, and build a relationship before signing a contract – we're not replacing that process. We know the CPG industry thrives because of the connections between all aspects of the industry, and we're not trying to challenge that. Sprilly was built for brands to be able to find the expert they needed, with the expertise to bring to life exactly what they need.
Sprilly as Discovery
We do have an application process on Sprilly to ensure that the experts that join are truly experts in their field. From there, our experts complete a robust profile that ultimately enables brands to discover in a more easeful, robust fashion than dozens of Google searches and unanswered emails. The discovery we're enabling on Sprilly will also give brands a sense of who is available now for work.
On the expert side, Sprilly offers them a chance to reveal all the goodness of why they are experts: their portfolio, written material, marketing of their offerings, and even webinars and events that showcase the expertise of the Sprilly members. These member showcase elements have been strategically built into the platform so that brands can see their potential hire in real life – before they even get on the phone! We envision a world where brands can learn and see their Sprilly expert in action before deciding to hire them, which eliminates all the wasted time of mis-hiring or needing to get individual samples of work from a dozen potential hires before moving forward with the one right one. We think as a brand: why not see a few in action, learn in the process, and completely cut that wasted time right out of the process?

Time for Sprilly
It's time that all the experts in the CPG industry had a place to call their own: all the wellness-based social media marketers; Amazon shop experts for food and beverage; copywriters for plant-based beauty companies; Shopify developers for wine companies; trademark lawyers that work only with food businesses; email marketing experts that love vegan companies all need a place to hang a shingle and enable brands to more easily find them.
Sprilly is here for that. Upwork, Fiverr, 99 Designs, TopTal just aren't making the cut. They weren't built for the CPG industry. We are. We'd love for service providers to apply, and for brands to recommend Sprilly to their favorite consultants, contractors, or small agencies!
See you over there: sprilly.com