5 Creative Ways To Find New Customers When You Can't Demo (Or Don't Want To)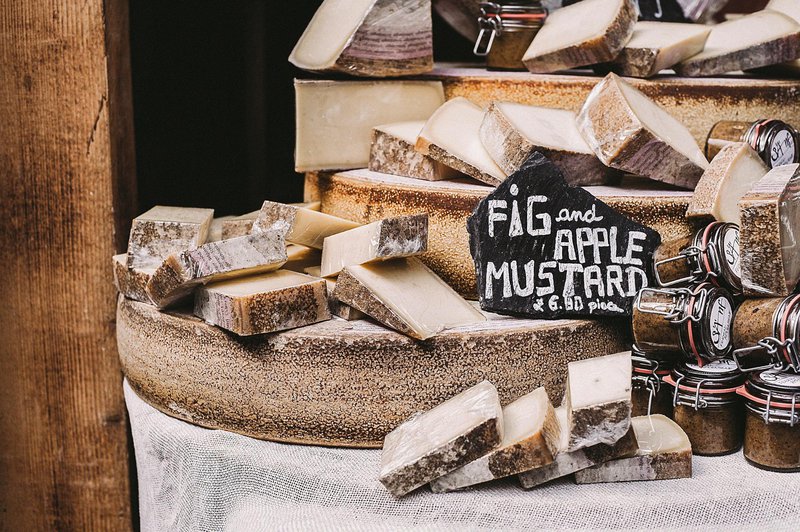 The days of food demoing feel long gone and when they do return it may look a bit different. It has been almost a full year of this pandemic and you may still be trying to find ways to access new customers.
As avid snackers and real-foodies we have not stopped our search for new brands just because we can't spend as long milling around the grocery store looking for unfamiliar labels. Here are some trends and creative ways to reach new customers when you can't demo (or don't want to) that we have seen in the last several months.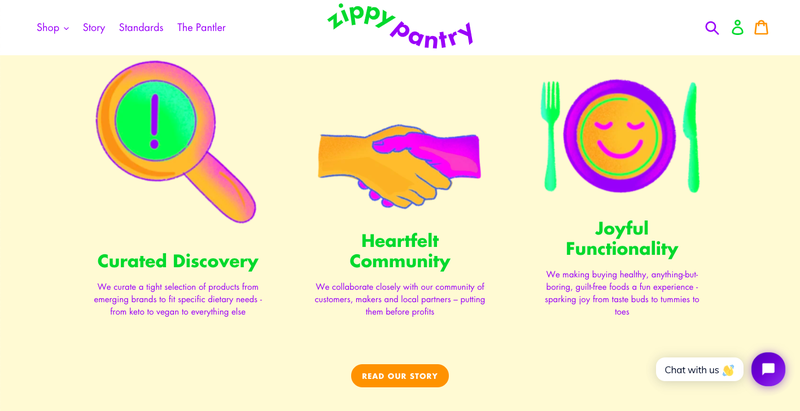 Online Shopping Is Everything
We can all speak from experience on this one and the statistics back it up: online spending in 2020 was at an alltime high of $839.02 billion, up from 40.3% in 2019. You may have added selling on your own site or on Amazon as a pivot or channel expansion for 2020, but consumers are looking outside these norms for their online shopping - especially grocery shopping. Because they may be limited in their ability to wander the grocery store and look at new items, online marketplaces like these six are giving consumers the ability to discover new brands during their shopping.
Pro Tip: Make sure to make the most of being accepted to one of these marketplaces - they do a lot of their own marketing and promotion. Be a partner to them by providing what they need, offering ideas, cross-promoting them, etc.
There's Strength in Numbers
You had to know we would be including a note on partnerships here! We truly believe that partnering with the right brands can lead to success for all. In addition to traditional partnerships like giveaways, co-branding, and influencer marketing there are two additional ways that have taken off where partnerships allow brands to reach new customers at this time that demoing is not possible.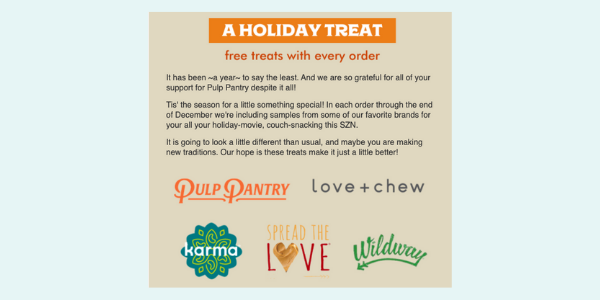 E-commerce Cross Sampling: In all of their December orders, Pulp Pantry included samples from like-minded brands, all building up to a giveaway at the end of the month. It was a complete win-win since Pulp Pantry was able to surprise and delight their customers and the participating brands were able to get samples in the hands of folks they otherwise might not have. Not much extra cost here either!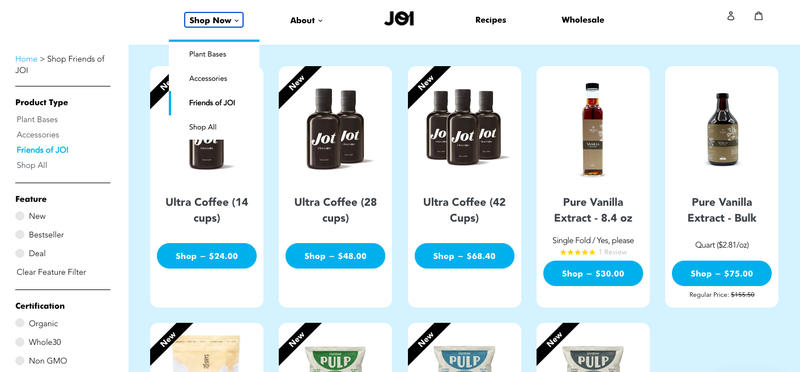 Cross Selling: Parsnip Member, JOI, has a mini marketplace on their site that they are calling "Friends of JOI." It is here that site visitors can purchase products from brands that JOI has accepted to this marketplace. There are a few apps that facilitate this like co-op commerce and Carro.


Pro Tip: Make sure you are telling the story here! Customers want to know WHY they are receiving these specific items in their shipment or WHY you are promoting another brand on your own website. Paint the picture for them of the overlying values or commonalities!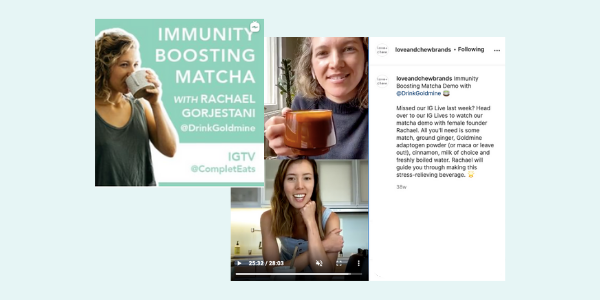 IGTV and Instagram Live
There are so many ways to use Instagram Live and IGTV for your brand but two of our favorite ways involve partnership (are you surprised).
Virtual Tasting: Send your product to an influencer or group of influencers and host a IG Live session where you guide them through tasting or experiencing your products. Maybe you are a skincare brand? Lead them through a nightly routine! Get creative based on what your product is. Your customers will appreciate seeing the product in-use by real people!
Co-Hosted Event: Partner with another brand to go live together and chat about how you use each other's products, how they might go together, etc. There needs to be something inciting here that draws in the attention - an exclusive recipe being shared, a product launch sneak peak, etc! Love + Chew and Goldmine Adaptogens partnered on an IGTV earlier in quarantine where they chatted about their brands, adaptogens, and made a matcha recipe.


How to know when to use IGTV or Instagram Live? IGTV is evergreen content - so save this for things that folks might want to go back and watch later!
Pro Tip: Promote ahead of time to build anticipation if you are doing Instagram Live – people can get 'live overload' and are likely not to hop on and watch just because. They need a reason and some excitement!


Subscription and Sample Boxes
The cat's out of the bag on snacking after 2020 -- we cannot get enough of it! Snack foods give comfort and that is something consumers are turning too right now. With that it comes as no surprise that there is a variety of new subscription boxes focusing on snacking and discovering new products.
Here are a few you can checkout that focus on emerging or better for you brands: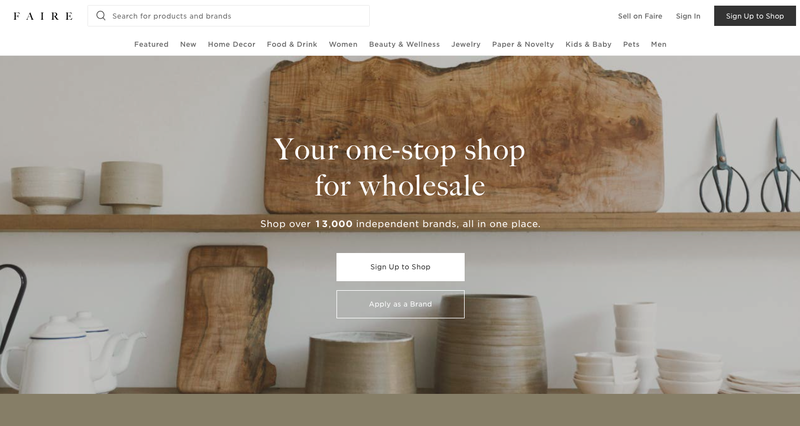 Sell To Small Businesses
There are tons of wholesale platforms out there that allow you to sell products at wholesale to small retailers around the country. No need to negotiate individual terms or go through a broker - it is all handled very easily through the platform. Our personal favorite is Faire and we know a lot of our members use this platform!
How might this help reach new customers when you can't demo? There was a massive push at the end of 2020 to shop small businesses. Oftentimes a small boutique or grocer has less clutter and competition on the shelves than a national chain store. Your product stands out leaving it more likely to be picked up and discovered by new customers. Once they fall in love they will seek out where else they can purchase that they frequent more often like online or in those larger chains.


One last piece of advice when looking to reach your customer when you can't demo? Learn from the experts! Brands like Haus have been exclusively ecommerce since the beginning, meaning they have needed to find creative ways to reach new customers. Here is a piece their founder did for Mailchimp that has some great tips!


Want more from Parsnip? Follow us!

This week's blog is written by Emily Hines, a brand and marketing manager for Parsnip and CPG brands.