Black-Owned Pantry Staples You Can Shop Online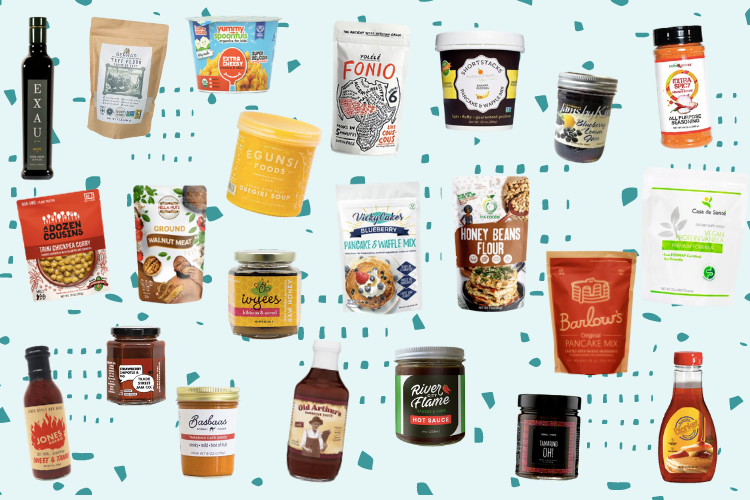 Bringing more small-businesses and small-batch foods into our pantries is a goal for all of us at Team Parsnip. Now, we have added to that intention; we are making sure that we are supporting and putting our dollars into businesses of all backgrounds, focusing right now on Black-owned business. In case you missed last week's blog post on Black Owned Brands You Can Shop Online for Your Sweet Tooth, check it out and our intention behind these posts!
Giving them support and customership is key in them getting funding and growing their business to a national level if that is what they want to do! It doesn't happen overnight and it doesn't happen without dedicated customers.
A reminder: A lot of these brands are out of stock or backordered right now, but that doesn't mean you can't support. Share their stories, follow them, and save this post so you can come back and shop when they are back in stock!
Please send along any brands that should be added to the list that we may have missed!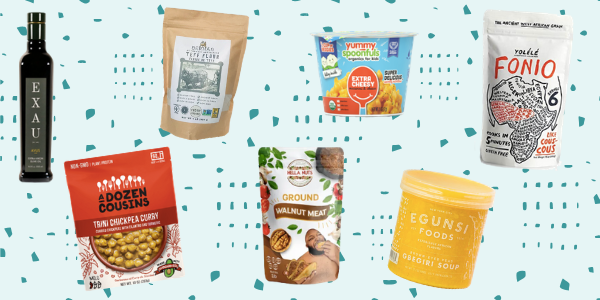 Cooking
If you spend a lot of time in the kitchen, you know how important a good olive oil is. This California-based olive oil company was founded by a husband and wife team with backgrounds making them the perfect team for creating a high-quality olive oil. Giuseppe is a 3rd generation olive oil producer from South Italy and Skyler is a Californian interested in design and agriculture with a background in wine making.
You may have heard of Yolele Foods founders Pierre Thiam (acclaimed chef and cookbook author) and Philip Teverow (Dean & Deluca). With their brand Yolele Foods they are celebrating fonio - a gluten-free, ancient grain that cooks in just 5 minutes - and bringing it to the US. Their mission is to "[create] an export market for ingredients grown by rural West Africans and removing the obstacles that stand between smallholder farmers and prosperity."
Beans are such a major food group loved across countries and cultures and Dozen Cousins is creating flavors that you can incorporate into your cooking at home, without worrying about the quality. Founder, Ibraheem's, flavors - Cuban Black Beans, Mexican Cowboy Beans, and Trini Chickpea Curry - are all non-GMO, vegan, gluten-free, BPA free, and MSG free. BPA free packaging for beans is huge!
Founder, Eunice Awosan, creates classic West African foods that you can make for a quick meal without sacrificing quality. All of their soups are gluten free,vegan, and preservative free and the recipes on their blog are inspiring to use the products beyond their capacity as a soup. If you live in New York you can find these at a few retailers and others can order directly online!
Teff is the focus and grain of choice for Behran Grains. Never heard of Teff? It is a naturally gluten-free ancient grain that was discovered ten thousand years ago in Ethiopia. It's full of fiber, protein, and vitamins and minerals! Founders, Ermeyes and Betlehim , are working to bring this lost grain back into your diet. What can you do with it? They have a few recipes on their site to start you off - like chocolate chip cookies.
Yummy Spoonfuls is a Black-owned, kids-food brand and they make a ton of organic and easy options for feeding your little ones. Mac & cheese, bites, and pancakes are just the start of the offerings by founder Agatha Achindu. When Agatha came to the US from Cameroon, where she ate fresh and local foods, she realized she needed to bring food to the U.S. that had the same quality and health.
Hella Nuts is a delicious plant-based eatery in Oakland - just looking at their Instagram makes me drool. Founders Mieko and Kamari also have a podcast and sell some of the items that make their food so great online. So even if you don't live near Oakland, you can order things like their patent pending Ground Walnut Meat, a meat alternative that is plant-based, soy-free, science-free, MSG-free, non-GMO, and made with organic ingredients.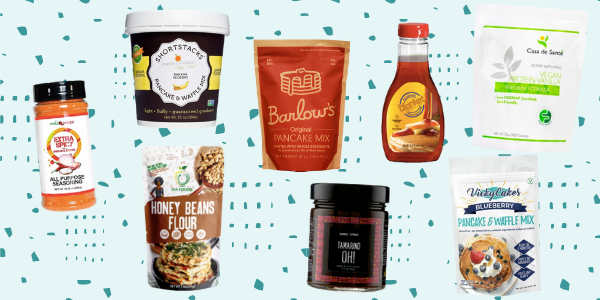 Spices
The low FODMAP offerings coming from this brand are awesome including everything from flours, to sauces, and spices to supplements. They also have a section on their website where you can search by diet or food sensitivity. Founded by Onyx Adegbola, MD PhD, their line is gut friendly and their website is full of delicious sounding recipes.
If you like spicy, these seasonings from POKS are going to give your meals an extra kick without any MSG, sugar, or preservatives. These Texas made seasonings are inspired by 'bold and authentic flavors' of Ghana, West Africa and are sure to bring some variety and flavor to your meals! Daddy's Recipe is their original flavor, but I think I will be ordering Mama's Extra Spicy to satisfy my Louisiana-grown pallet.
Founder, Essie Bartels, learned to cook with flavorful spices in her mother's kitchen in Ghana and took that inspiration to try flavors from around the world. The result was Essiespice, where she sells a (drool worthy sounding) variety of spices and sauces like TamarindOH and Mango Chili Medley that will bring all new flavors to your kitchen! I have my eye on this mini collection so that I can try them all!
Baking
Barlow's was named after their founder, Tiffani Neal's, grandfather a farmer and veteran. Tiffani makes pancake mixes made with organic unbleached flour and whole ingredients. She also has a peach cobbler syrup that is making me drool! Barlow's social mission gives back to Feed Our Vets with 2% of purchases donated to assist with "closing the hunger gap for those who have vowed to serve us." Read more about their awesome story here!
Iya Foods has way more to offer than just baking ingredients - think spices, seasonings, and powders as well - but it was their baking flour collection that caught my attention! They sell Cassava Flour but also some new flours I have not experimented with like Tiger Root Flour, Fonio Flour (see Yolélé Foods up top for more on this!), and Honey Beans Flour. Founder, Toyin Kolawole, is committed to bringing these foods to market in small-batches and with sustainability and community in mind.
Blankets was founded by a husband and wife team, Deven and Marquita Carter, who wanted to bring their family recipes to life for others to be able to enjoy a fun breakfast without all the nasty added ingredients. They make both pancake mixes and syrups that sound like an amazing addition to and Sunday morning pancake tradition! I am especially crushing on the Vanilla Bean Syrup.
I am not surprised that a lot of the delicious sounding flavors at SoCu Kitchen are sold out right now! Banana Pudding Waffle Mix? Bourbon Praline Bacon Rub? My southern roots are calling me to this brand! Founder, Erica, was inspired to package these unique twists on breakfast staples when she was grocery shopping for a recipe and spent $30 on all the ingredients! Instead you can shop her pancake mixes for an affordable price!
Another incredible pancake mix to consider for your pantry and this one comes in vegan friendly and gluten-free options! Wholesome and real ingredients in classic flavors like Blueberry or Pecan make for the perfect breakfast treat in a plant-based household. I love Vicky's story of how the brand came to be - as a single mom she needed to make healthy recipes for her children with limited time, and saw the value of all sitting around the table and eating breakfast together!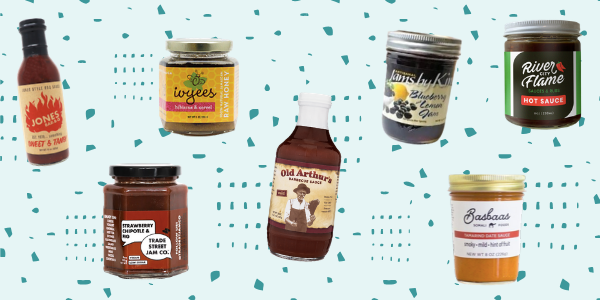 Sauces
If you watch the Netflix sensation, Queer Eye, you know Jones Bar-B-Q. The Fab Five helped co-founders and sisters, Deborah and Mary Jones, bring their family BBQ sauce recipe to the people by creating a manufacturing process. Well it worked and now you can order it online! It is great to marinade with but also a good dipping sauce as well - what a good BBQ sauce should be. And if you are ever driving through Kansas City, you should stop at their restaurant!
A father and son owned duo, Eudell Watts III and Eudell Watts, IV, created Old Arthur's to pay homage to Arthur Watts. Arthur was a slave assigned to tend to the cooking fires, and overtime Open Pit Barbequing became a skill of his. He took that with him when he was freed from bondage in 1863. Arthur lived to be 108, creating recipes and refining them along the way. Now his sauces and spices live on in Old Arthur's! The full story can be found here.
This hot sauce company is made in Richmond, Virginia - my husband's hometown - by Paula Horne. Her hot sauce is made using habaneros and jalapenos and an Asian flare - inspired by her time deployed with the army - and right now they have a Ghost Pepper hot sauce available! Spicy! I love trying different local hot sauces and this one sounds like it will not disappoint.
The headline testimonial on the Basbaas site says "A trip to Africa carried by condiments…" from a writer at the NYT. Looking at the flavors that founder, Hawa Hassan, has made I imagine the experience of eating them being just that. She currently offers Tamarind Date Sauce and Coconut Cilantro Chutney! Fun fact: the name "Basbaas" comes from the Somali term for chili. Hawa's story is one of diaspora, family separation and reunitement, and a love of food.
Jams and Honey
Founded by Ashley Rouse, Trade Street Jam Co makes some seriously unique and delicious sounding jams. I have my eye on the gift set (currently on pre order), which features the flavors Strawberry Chipotle + Fig, Smoked Peach, and Blueberry Lemon Basil. I cannot wait to get my hands on these to include in cheese boards, breakfasts, and more of their awesome recipes. Good news? They don't use pectin, thickeners, stabilizers or extra sugar to thicken their products.
Ivyees not only makes and sells raw honey, but also a ton of skincare products! Founder, Ivy Lawson, makes flavors like Hibiscus & Sorrel where their bees pollinate from these two plants making a honey that has a unique flavor profile. Experiencing the honey of Jamaica changed Ivy's mind on honey and she became a lover, moving there to start her company after years working in a corporate job!
Kim makes some jams and preserves that are both traditional and unique in their flavor profiles! They are made by hand in small batches and with love, and when it comes to jam there is no better way to make them. You can taste that difference! Some flavors that might peak your interest? For savory I am going with Roasted Garlic and Sweet Onion Jam. Sweet? How about Pomegranate and Orange Jelly (it's vegan too!).
Want more from Parsnip? Follow us!

Note: Brands with a * before their name are current Parsnip members.
Not a member yet? Sign up as a service provider, event, or brand here.
Are you a shopper looking to find more brands that align with your values? Sign Up
This week's product roundup is written by Emily Hines, a brand and digital marketing freelancer for Parsnip and CPG brands. Emily works with brands as a marketing jill-of-all-trades assisting with everything from messaging strategy to email marketing execution.