How To Create A Welcome Series That Converts Part 2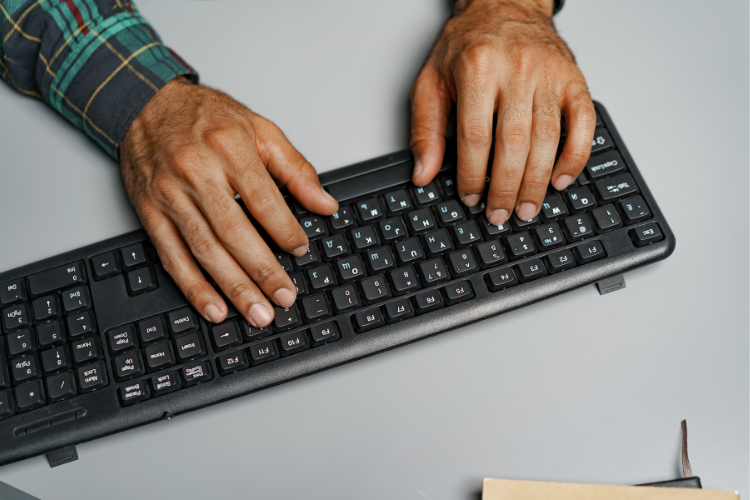 Last week we talked about how to create a welcome series that converts, starting with an offer they can't refuse and showing up in their inbox to deliver exactly what they asked for. This week, we are going to look at the next three emails in the series and how they can help convert customers and build trust and understanding with your newsletter subscribers.
Say a quick hello:
The second email in the welcome series is a great time to tell the customer more about you and your product. Especially when shopping online, consumers want to know more about who they are buying their products from. At this point talk about the company's history and highlight any values or differentiators that they should know about! 
Design Tips For This Email:
It is tempting to dive deep here, especially where there is an amazing story behind your brand. Keep the content to only top level items and use icons to call out important points for skimmability. 
Include a photo of the founders/team! Some founders are hesitant to put themselves into their marketing for various reasons. I totally get it! If you are open to it though, it adds a human element to your brand that is unique to small-medium sized CPG brands.
Always remember to include a reminder about the coupon code or welcome offer in each email!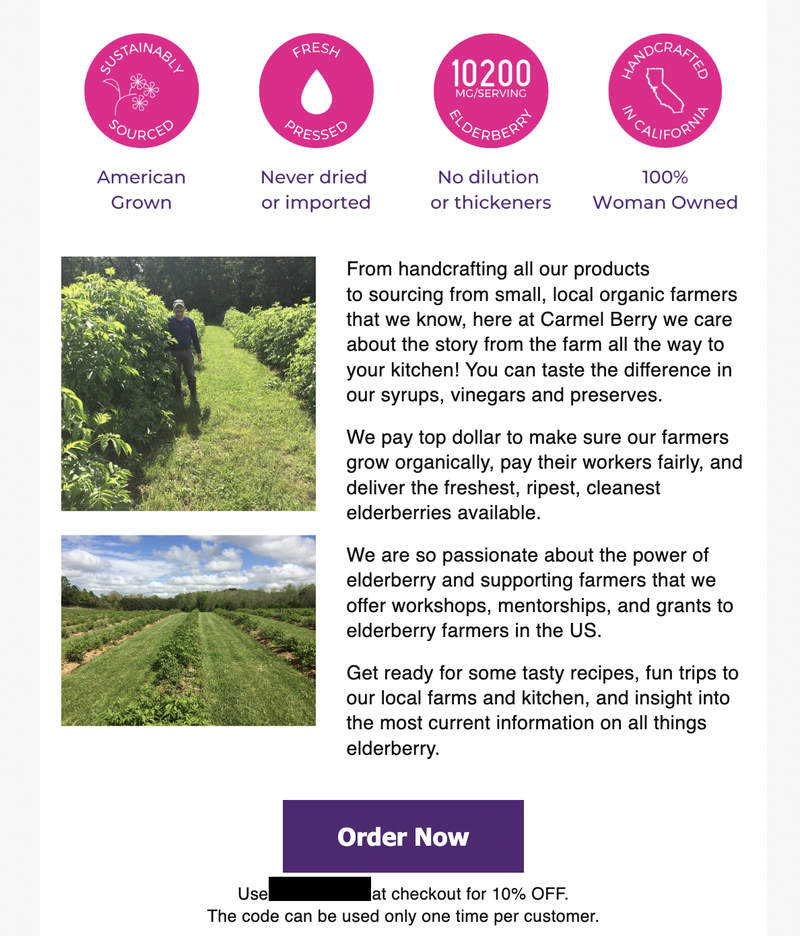 This email from Carmel Berry Company is an example of keeping it short and sweet, while including callouts for top level info! 
So many tasty options!
Time to go into the details of the product! If you have just a couple SKUs this email will be easy, and even if you have just one it is worth doing a deep dive on that item. At this point in the series we have delivered to potential customers their welcome offer, built emotional rapport through telling our story, and differentiated ourselves from the competitor. If they still have not redeemed that coupon code it is time to send them an email filled with irresistible recipes or use cases for your product and to highlight best-sellers to mitigate any overwhelm that might be keeping them from ordering.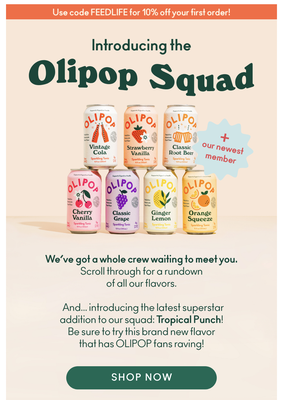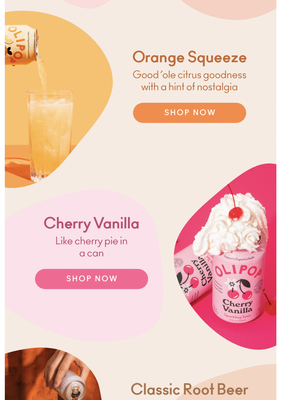 As always, Olipop did an awesome job on this email. They go through each flavor including enticing pictures of each one making it easier to pick which one you want to try. 
Build trust with user reviews!
Alright, you have given them plenty of opportunity to purchase and have one final email in the welcome series to send before you let them move into the standard newsletter. Don't worry though, just because they didn't convert from the welcome series doesn't mean they never will. 
In this final email I like to send user reviews in case the customer is still on the fence about whether or not the product is worth it. Pick just a few reviews to highlight and choose wisely! Here is how I choose the reviews I want to feature:
Does it address a pain point that typically keeps someone from purchasing? i.e. "it's worth the price" or "the pepper was a delightful addition to the flavor!"
Is it unique and real sounding? Some reviews sound robotic and like all the rest, I like to pick ones that stand out and really make an impression!
A review that highlights one of your top differentiators or value-adds is a great way to reiterate that message from a different perspective!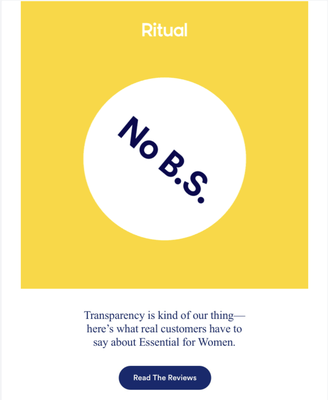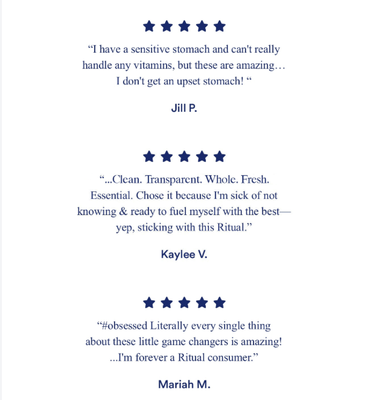 Ritual nailed it with this review choice! The first review addresses a huge pain point customers face with choosing a multivitamin - stomach aches. The second really highlights Ritual's key messaging - we are clean and transparent.
Keep in mind here that depending on your email service provider you may be able to create a few "tracks" that the customer can follow. Depending on how in-depth you want to go you can send them certain emails based on whether or not they have purchased at any point in the flow. For example, I will create two emails at each phase: one with a coupon reminder for anyone who has not ordered yet, and one for anyone who has ordered that does not include the code but still tells the brand story to encourage repeat purchasing.  If you have an in-depth email flow after someone orders you might not need to keep anyone who has ordered in the flow! All things to think about.
---
Want more from Parsnip? Follow us!
This round up was written by Emily Hines, a freelance brand manager for CPG brands. Her specialty is email marketing and email automation!