How to Successfully Partner at Each Stage Of Your Business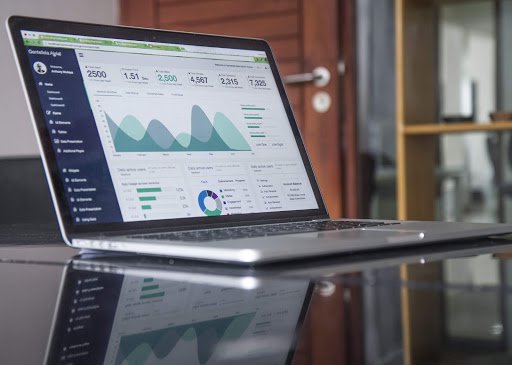 We have brands of all shapes and sizes on Parsnip and we get asked quite a lot whether or not partnership is right for every brand. Partnership can really propel your brand forward at each stage of your business, as long as you're thinking about growth. So, if you have a concept in development, are contemplating how to reach a new audience, or maybe you moved out of your own kitchen, partnership can be one of the most impactful ways to grow your business.
That being said, successful partnerships (and partners) are going to look different depending on a lot of things. One of those things is what stage of business you are in! Did you just start out? Are you really feeling like you are getting to your consumers and are ready to up the ante? Are you finding that there is a new competitor knocking on your door each day?
There is a place for partnership in every step of the brand lifecycle, you just need to define what your goals are!
Read on to discover how to successfully partner at each stage of your business:
Development & Building Relationships
This stage:
You have your product recipe or initial prototype done
Your early-stage supply chain is setup
Branding is well on its way
You've started to dabble in social media, email marketing, and other forms of reaching out to customers
At this point in your business, building relationships that will propel you forward once you are ready to hit that metaphorical 'sell' button is key. Network, network, network! Like-minded brands, founders you resonate with, and industry pros are all avenues to consider in finding partners. Don't be overbearing and don't ask them for much at this point. But, just like any relationship, it has to start somewhere.
Relationships with test customers, suppliers, and freelancers are all important at this point as well. You are likely a small team, maybe it is just you, so anyone you can get onboard as a cheerleader for the brand is going to benefit you down the road.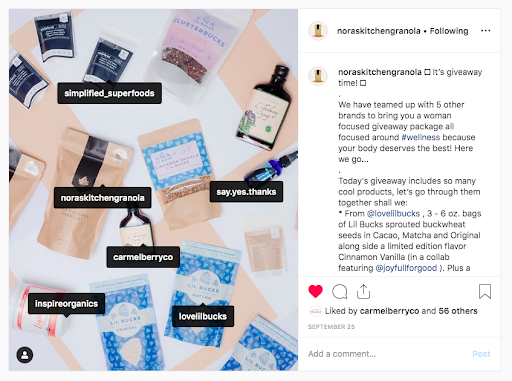 Introduction To Market & To Customers
This stage:
You've got Ecommerce, Amazon, Etsy, or other selling strategy setup
You've started thinking about doing events to showcase your product in your local community
You are contemplating pitch competitions to attract investors or other industry friendlies to help you
So, you hit publish on your site and you are ready to sell. You are feeling antsy about whether sales will come in and how people will find out about your product. Welcome to the club of being a consumer goods startup!
But, here is the good news, this is the first phase where tangible partnerships will come in handy. You need to get your product in front of as many people as possible. Get their eyes on the product, let them taste it, touch it, smell it, try it on! There are a few partnership types that come to mind right away (but obviously there are so much more!):
Events: Events in your local area (local being key here) are a great way to start to build a following in your community. Saturate the local market with buzz about the new hot brand on the streets. Sample at events and be present so you can make an impact when you talk about your product with passion. Try and get a booth at a farmers' market so you can see the same people AND start getting some user feedback.
Brands: We talk about this a lot. But, if you really know who your target customer is (You don't? No stress, read this blog of ours.) then you can start to brainstorm, keep an eye out, and reach out to brands whose values are in line with your values (Why are those important for partnership? read more here). and your customers'.
What kinds of things should you be doing with them? Anything! An Instagram or email giveaway to get the word out, a co-blog post or blog swap to share more in depth on who you are. My personal favorite? Give them a custom coupon code for your site that they can share in their IG stories and you do the same. Very low level of work, they can customize the look and feel of the videos/posts so it doesn't feel sales-y AND you now have a trackable metric directly related to your goal: sales.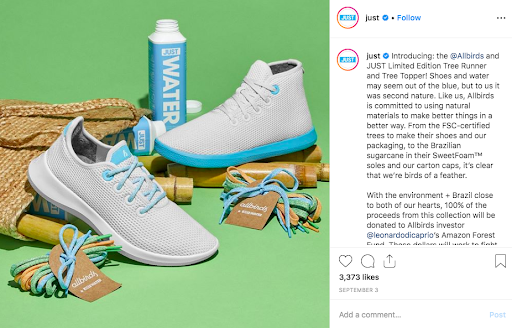 Growing Into Your Values
This stage:
You've got consistent sales coming in
You are regularly ordering ingredients, or may have a co-packer
You are looking to go deeper on understanding your audience and developing loyalty
Congratulations! You are growing. You have a new set of goals and challenges that partnership can help with. Obviously sales are still a huge metric. But, now you are probably looking to stand out from your competitors (is that list growing?), launch new products, and really show your customers why your brand is so much more than the amazing product you make. So, how can partnership help with that?
Alignment is key here if you are trying to differentiate yourself from a competitor by beginning to hone in your brand values and unique selling points. Maybe you are breaking away from the pack by tapping into your value of giving back and you are taking on a social mission - that is a well-aligned partnership - like this one from Just Water and Allbirds! If you are standing out by setting yourself up as the quality, premium option then only partner with brands, events, influencers, retailers (the list goes on) who convey that to your customer. Consistency is key!
A Blast From Past: Ready to launch a new product to hook your customer back in again? (Great idea!) Lean on past partnership successes for this. Did one event see really great buzz when you first launched? Go back for a second time to show those customers your new item. An influencer that saw a good number of sales on their unique code? Yupp, see if they are interested in promoting the new product! You don't have to reinvent the wheel here!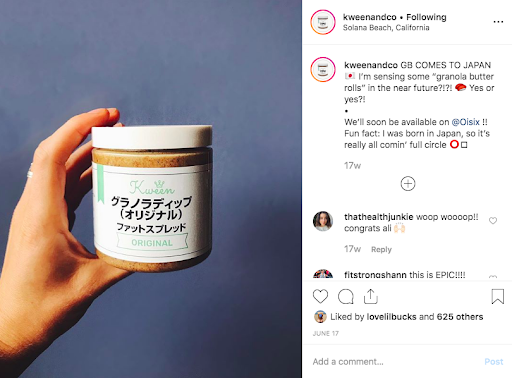 Maturity and Extension
This stage:
You've got widespread sales and brand awareness
You've launched successfully into retail and/or new markets
You have some incredibly loyal customers
You're thinking about how to reward those incredibly loyal customers
Things feel pretty good and maybe you are happy where they are. Or maybe you are ready for the next big challenge for your brand. Launching into a new demographic, market, or sales channel are frequent strategies that consumer goods brands adopt at this stage. And, you guessed it, partnership is your tried-and-true helper.
Back to development? This stage can feel a little like heading back to development sometimes. You are testing out new products for new demographics, or seeing if a new market is a good fit for an old product, and it all feels so new. So, think back to the strategies you adopted when you first started out and what worked. If you kept those relationships and business contacts as close friends, they may have been through what you are about to embark on and have some useful connections. Head back to the drawing board on the types of brand partners and events that your new demographic would be found purchasing or attending. Get back into the thick of it like Toys R Us did in this partnership.
This is not an exact science and your brand will have its own unique set of challenges and goals, but it's never too late to dive in! Successfully partnering at each stage of your business is totally doable and necessary in today's competitive landscape.
Emily Hines is a marketing and branding Jill of all trades, working with CPG brands on things like brand strategy, email marketing, photography, content curation, and more. She is excited to be working with Parsnip on match-making and marketing!