Interview Renewal Mill: Complete Rebrand and Upcycled Food Association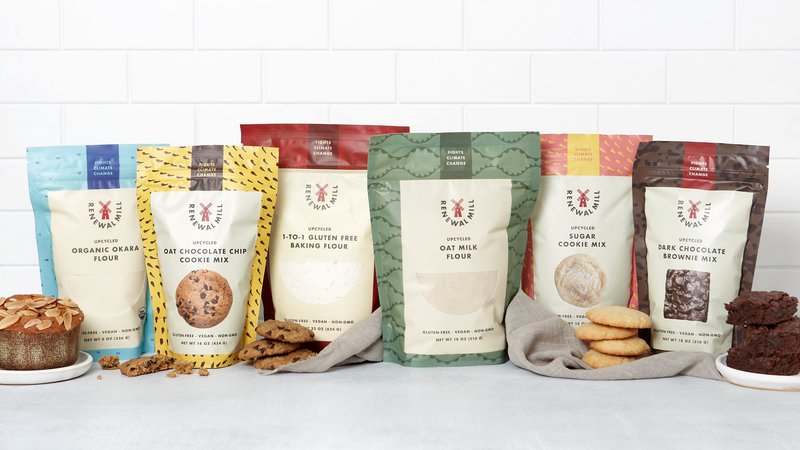 Last year we did an interview with Caroline Cotto, founder of Renewal Mill, which you can read here for some background on the brand. Since then their company has continued to grow, is trending along with upcycled foods, has recently gone through a rebrand AND has been championing a new certification for the industry. Talk about a CPG powerhouse!
We were thrilled that amidst all this craziness and hustle Caroline agreed to answer some questions on Renewal Mill's rebrand and share some insight with our blog readers!
Tell us about your new SKUs!
Renewal Mill has three new SKUs: Upcycled Oat Milk Flour, Upcycled Oat Chocolate Chip Cookie Mix, and Upcycled Sugar Cookie Mix. As its name suggests, the oat milk flour comes from the protein-packed byproduct of oat milk production. With 31g of protein per ½ cup serving, oat milk flour is a great way to add protein to your favorite baked goods, pancakes, or savory doughs, like flatbreads.

The other two items are extensions of our "just add oil & water" vegan, gluten-free baking mix line. The Upcycled Oat Chocolate Chip Cookie Mix features the upcycled oat milk flour as its hero ingredient, while the Upcycled Sugar Cookie Mix features our flagship ingredient, okara flour. Our sugar cookie mix is the only vegan & gluten-free mix available on the market. All of the baking mix product development was done by our incredible product developer, the Alice Medrich, a 5x James Beard Award Winning cookbook author with expertise in alternative flours.

Tell us a bit about the rebrand you just went through. What is the story behind it? How did you know it was time?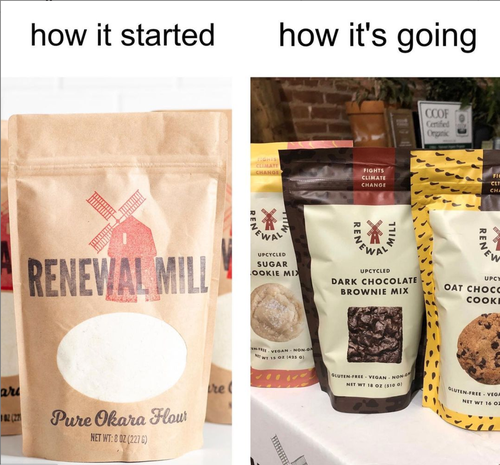 Oh, we've known it was time for a while haha. We designed our original logo on PowerPoint, were hand-stamping craft bags for packaging, and were using the tag line "Ingredients with a Story" which didn't really tell you what the story was. Real scrappy startup stuff haha. With the rise of the upcycled food movement and the excitement that the pandemic brought back to the baking aisle, we grew a lot over 2020 and knew we needed a more professional look with a clearer takeaway message for consumers.

Specifically, we wanted a way to translate the mission of upcycling to packaging, and at first, all of our ideas were very literal. But, the literal interpretations didn't convey deliciousness. Eventually, we started working with a designer who was able to take the idea of upcycling, zoom out, and see the forest for the trees. He had the idea to translate real weather pattern data like heat maps, tide depth charts, and pressure level maps into packaging patterns, and we immediately fell in love. By using weather patterns, we wanted to help consumers draw the link between upcycled food and climate change prevention.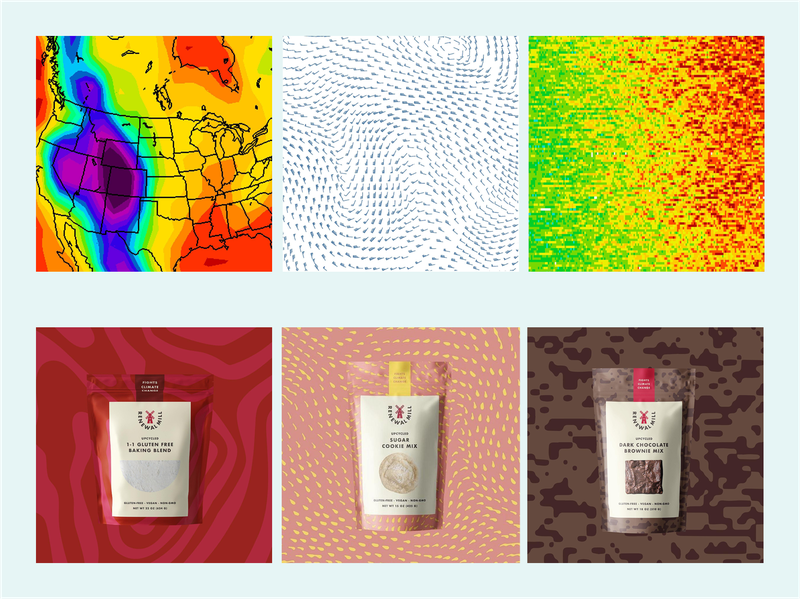 But, we also knew that people buy with their eyes, so we wanted to make sure that each bag was its own beautiful art piece in order to help drive trial during a period when in-store demos aren't allowed and you can't educate consumers on the product directly.


How much did your brand values come into play when you were determining the design of the new packaging?
So much. It literally says - "Fight Climate Change"- at the very top of each pack.. We're not dancing around the issue anymore. The crisis is real, the solution is here, and we're not shying away from the idea that our product is actively preventing food waste, one of the single largest drivers of climate change. When we started this business, we were more cautious because we didn't want consumers to associate the idea of waste or poor quality with our delicious tasting products. But, as time has gone on, we've leaned more into the fact that "upcycled" is our unique differentiator on shelf. If we want to make a tangible impact in the climate and sustainability space, we need to shout about it. And that shouting starts with the main call-outs on front of pack.


How are you telling the amazing story behind the new packaging to your customers?

We're telling them right on pack. The back of each bag says: "This cookie mix empowers you to fight climate change from your kitchen. By choosing upcycled, you're reducing global food waste and saving valuable natural resources... Our bag designs are inspired by changing weather patterns. Eat upcycled and take a stand against climate change"

What is your biggest learning from doing a visual rebrand? Best advice for anyone out there about to pull the trigger?
Don't just go with a branding agency because of their track-record, find someone who really understands your vision and who isn't afraid to think abstractly. Find someone passionate about what you are doing who will also be a brand evangelist, and partner with them to share their work. More expensive doesn't mean better. And, if you have any doubts about pulling the trigger, I can tell you that well-designed packaging does actually make a world of difference in CPG. We're seeing sizable sales increases as a direct result of the rebrand. Go for it!

Renewal Mill also has a new tagline! Was that a hard decision to make? How has it been received by your customers?
The name of our company, Renewal Mill, is meant to inspire hope, giving a renewed sense of purpose to things previously overlooked. Our new tagline is meant to do the same. With "Fight Climate Change from Your Kitchen," we want to give home chefs and bakers the power to use their dollars to affect real change and make a difference in reducing food waste at scale. It's also an invitation to folks to join us and help us write the future story of our food system, as opposed to our old tagline which was more passive and static. So far, we've only heard good things :)

You are a huge proponent behind the Upcycled Food Association and it's new certification. What has the process of creating a new certification in the industry been like?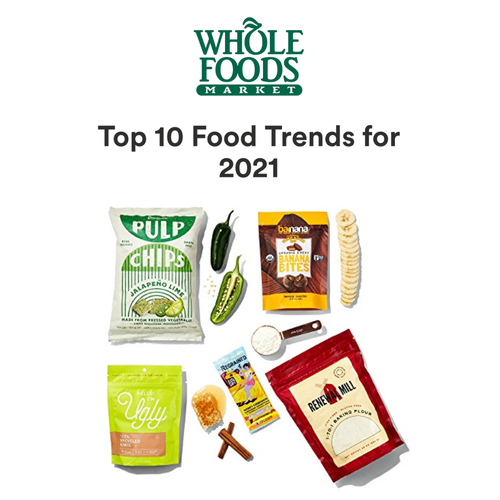 It's been really exciting to see the groundswell of support and excitement behind the movement over the last year. Whole Foods naming "upcycled food" a Top 10 Trend for 2021 was a huge win for the brands in this space. But, the process of creating a new certification has been challenging. The goal of it is to create universal consumer understanding of the term "upcycled" and to build trust that helps drive demand. But, unlike organic or non-GMO which are relatively cut and dry (ie. your product is made with organic ingredients or it's not), upcycled is much more nuanced. A lot of upcycled ingredients can't be used at super high percentages, so it's been challenging to set a certification threshold that includes companies certifying produce and folks certifying sweeteners, for instance, that can only be used in low percentages. We ended up with a hybrid model, so the certification standard allows your product to be certified upcycled if it's made of equal to or greater than 10% upcycled ingredients -OR - if the sale of your product diverts a certain tonnage threshold of food waste per year. We're super excited to be certifying the first round of products this spring, so lookout for the new "Certified Upcycled" seal on packages starting in early summer.

Anything in the pipeline you are looking for a partner on that our members might be able to help with?
We are always looking for partners to work with on collaborative products. We've worked with Tia Lupita on an okara tortilla, and we have an exciting new co-branded cookie mix coming out with Burlap & Barrel in April. We're also always looking to work with other companies on recipes? How can our ingredients and mixes be used with yours to create something delicious?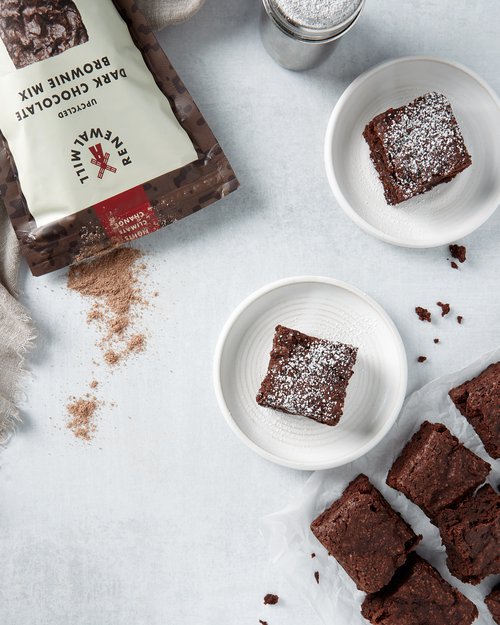 Help us get to know YOU. Lightning round:

Wellness, food, or CPG trend are you most into right now? Mushroom Jerky - can't get enough of Pan's, Munchrooms, and Moku
What trend can you just not seem to get into? CBD -- I just don't get the hype.
Favorite way to reduce food waste outside upcycling? Freezing - if I can't finish leftovers quickly enough, I pop them in the freezer for a meal later when I don't feel like cooking. Or, if I can't finish all the produce I purchased in a certain week, in the freezer it goes :)
Favorite Renewal Mill product or recipe using Renewal Mill? Hands-down the brownie mix -- can't get enough!
Self-care tip during quarantine? Go outside. Every day, make the time to get outside at least once.
Pantry staple you stock up on? Almond butter. It's good on everything. Seriously, everything.

Find Renewal Mill on all social platforms at @RenewalMill and online at www.renewalmill.com.