Gift Guide | 9 Gifts from Better-For-You, Female-Founded Brands To Give in 2021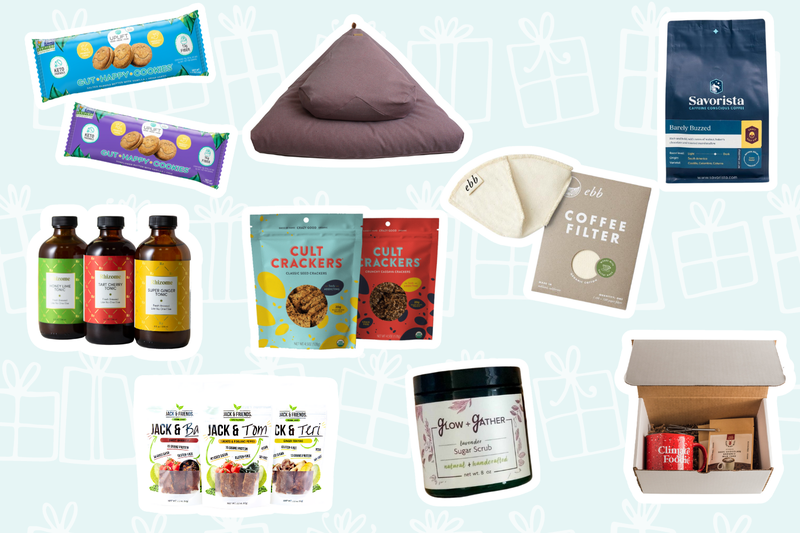 The final 2021 gift-guide is here and we've rounded out this year's BIPOC and partnership gift guides with one focused on female-founded wellness products.  All of these products are better-for-you and/or better-for-the-planet alternatives to classics we all know and love. Think meditation, coffee, sweets and snacks. 
We even created a section at the end focused on stocking stuffers that will blow your family away!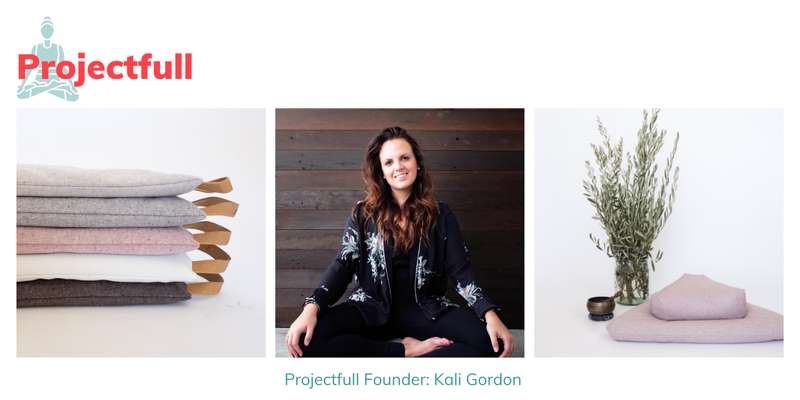 Projectfull
Meditation Essentials: These were on my wish-list this year (*wink wink* if you are reading this, dear family)! I want a beautiful cushion to sit on during my meditation practice so that I have a comfy place in the corner of my office that is all mine for retreating to. I love that the cushions, eye pillows, and blankets from Projectfull are made with organic, sustainably sourced, and ethically procured materials, which you can read more about here. Founder, Kali Gordon, is also committed to giving back to causes that support mindfulness in underserved communities, big time yay!
Who we're buying for: I think there is really something from Projectfull for everyone on the shopping list between their eye pillows, medication cushions, blankets and nesting trays. But, I am gifting them to the folks on my list who are actively trying to carve out me-time, to be more mindful, and need to clear some chaos.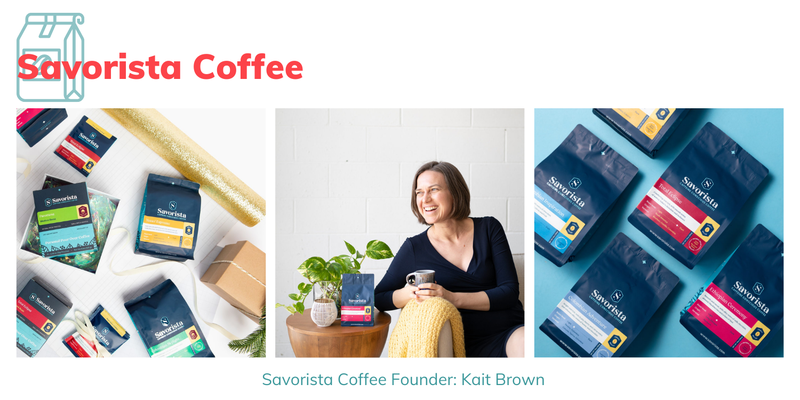 Savorista Coffee:
Caffeine Conscious Coffee: Savorista's no-caffeine and low-caffeine blends are the perfect solution for those mornings when you want another cup, but maybe not the caffeine jitters that can come with it, or for anyone who limits their caffeine intake completely (like I probably should). Savorista cleanly removes caffeine from their beans without any chemicals, which is a big deal. They also provide information about the growers of each of the coffees they source so you can feel good about that! You can filter on the left side of their shop page based on taste and caffeine level, making it easy to find what you need. 
Who we're buying it for: This one really comes to mind for me for any of my friends who are pregnant or just had kids since they can feel safe with the limited caffeine levels. They are also perfect for any coffee lover because we all have been in a situation where we want the ritual or taste of the coffee, but not the full caffeine level! 
p.s. You can save 25% on all coffee with the code SAVOR25.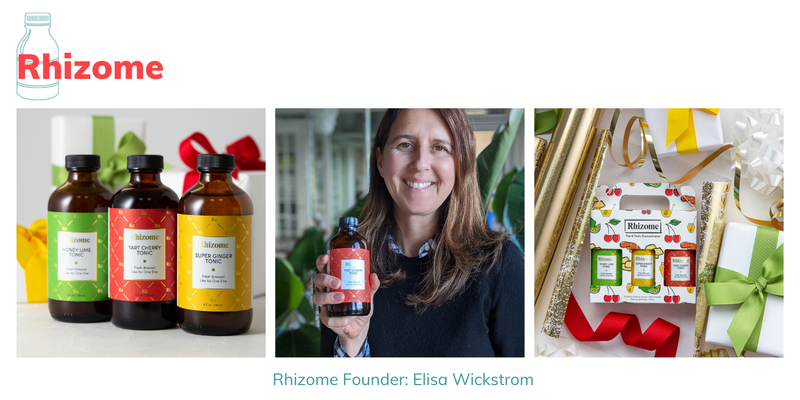 Rhizome
Freshly-Brewed Tonics:  Let's talk first about Rhizome's name. As founder, Elisa Wickstrom, explains on their website rhizome is a botanical and philosophical concept. Philosophically, rhizome is a nonlinear process: no limits, no boundaries, no beginning, no end, no middle. The ingredients in Wickstrom's tonics, like ginger and turmeric, are botanical rhizomes, growing infinitely where each piece is part of the bigger plant. I just love that connection! Flavors like Cherry, Ginger, and Honey Lime add a refreshing and nourishing drink option with no refined sugars or alcohol that can be added to teas or sparkling water.
Who we're buying it for: The wellness friend who is taking on Dry January. These provide a great non-alcoholic option that will still allow them to spruce up their drinks and feel a little fancy.
p.s. You can save 30% on your order with the code PARSNIP.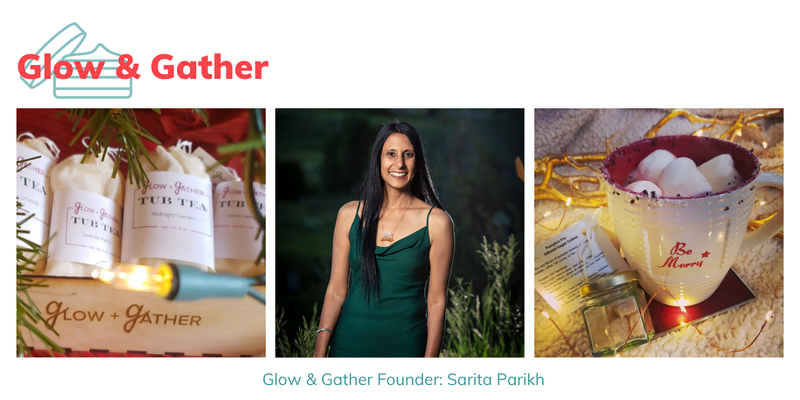 Glow and Gather
Skincare and Kitchen Staples: Glow and Gather has two lines of products, their Glow line which is a clean-label skincare line, and their Gather line filled with things you need for creating a delicious meal around the table. With every order from the Glow line they plant a tree through One Tree Planted. They also support Denver's domestic violence shelter by donating non-perishable food and necessities. I've got my eye on their bath bombs and tub teas because a good hot bath is neccessary in these cold months ahead. Founder, Sarita Parikh, also makes beautiful salt, sugar, and drink blends. 
Who we're buying it for: They have lots of gift sets perfect for just about anyone on the list but I am being called to the unique tub teas and infused sugars for my already-have-a-self-care-routine-and-all-the-goods-hard-to-shop-for friends this year.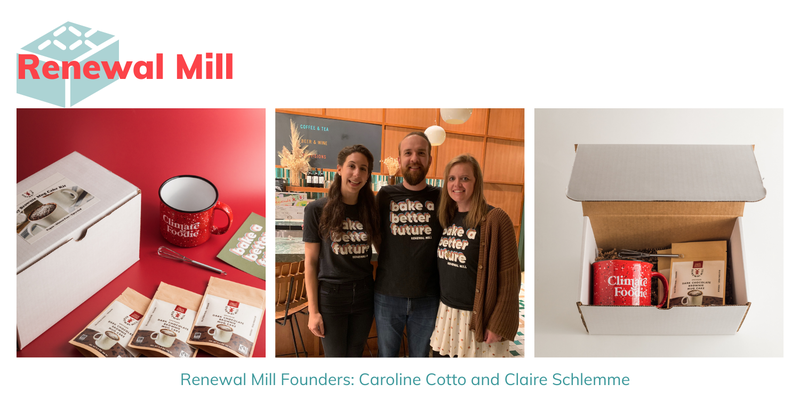 Renewal Mill
Upcycled Brownie Mug Cake Gift Set: We have written a lot about Renewal Mill on our blog (see here and here) because they are doing so much amazing work for the environment through their delicious and chef-crafted upcycled baking mixes. Their gift sets this season are amazing and our favorite is definitely this Brownie Mug Cake set. I have had their brownie mix in a mug before and it is a delicious way to have a treat without committing to making a whole pan of brownies. I just love this "Climate Foodie" mug too!
Who we're buying it for: The on-trend, eco-conscious foodie in your life! They will tout this mug with pride and enjoy that this brownie mix is freaking delicious AND made with upcycled ingredients.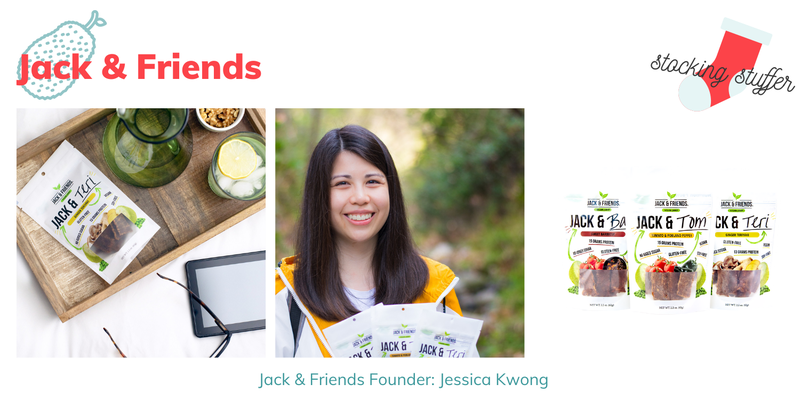 Jack and Friends
Plant-Based Jerky: This plant-based jerky, made from jackfruit and pea protein, is every plant-based eater's dream! Founder, Jessica Kwong is all about inclusivity, not only making a snack that everyone can eat, but also one that everyone enjoys! No decision here between function and flavor. Fiber and protein in an on the go style snack with powerful flavors like Tomato and Poblano, Sweet Barbeque, and Ginger Teriyaki make this a must try.
Who we're buying it for: Stocking stuffers for the whole family! There's a flavor here for everyone and this gives you the chance to shock your relative who thinks plant-based can't be tasty.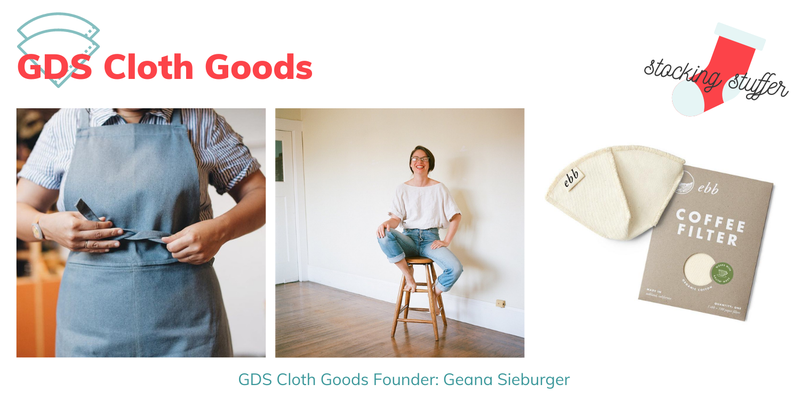 GDS Cloth Goods
Aprons and Coffee Filters:  GDS founder, Geana Sieburger, makes beautiful hand-crafted aprons, totes, and cloth coffee filters. They are all grown, crafted, and sewn right here in the US.  They also have care bundles which are perfect for any chef or coffee lover in your life. I love that Geana is committed to "3% for Justice" where three percent of online sales are donated to causes and organizations invested in the environment, civil rights, and marginalized groups. While these are not consumed in a better-for-you sense, they are better for the environment and thus … better for you!
Who we're buying it for:  The Ebb filters make the perfect stuffers for all our caffeine-fiend family members who need a little eco touch to their morning routine. Meanwhile, Geana's aprons and smocks are perfect for anyone you know who spends a lot of time in the kitchen.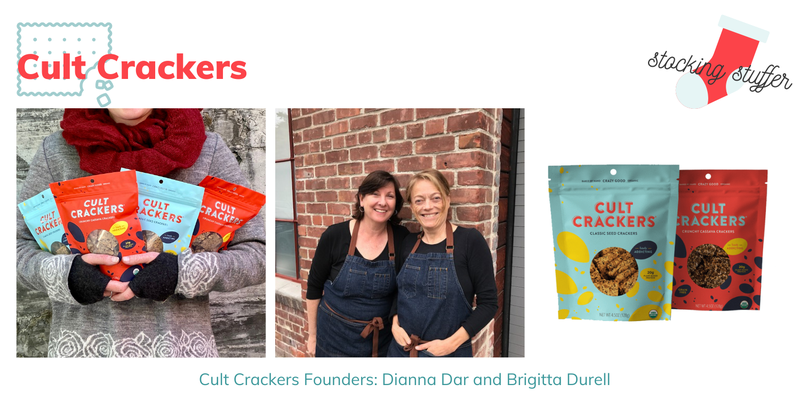 Cult Crackers
Crunchy, Small-Batch Crackers: When I tell you all that these crackers are next-level, I mean it. The crunch is fantastic, there is the perfect level of salt, and they pair great with just about anything on the cheese board. They are hand-crafted with high quality ingredients and you can feel good about serving them at parties because they are gluten-free. We did an interview with founders, Dianna and Brigitta, here where you can read more about their new packaging - it's phenomenal isn't it?
Who we're buying it for: These would be perfect for making your own cheese basket for a host/hostess gift or as stocking stuffers for the snack heavy family! Mine personally are very into impromptu charcuterie boards when we are all together so having some bags around is always important.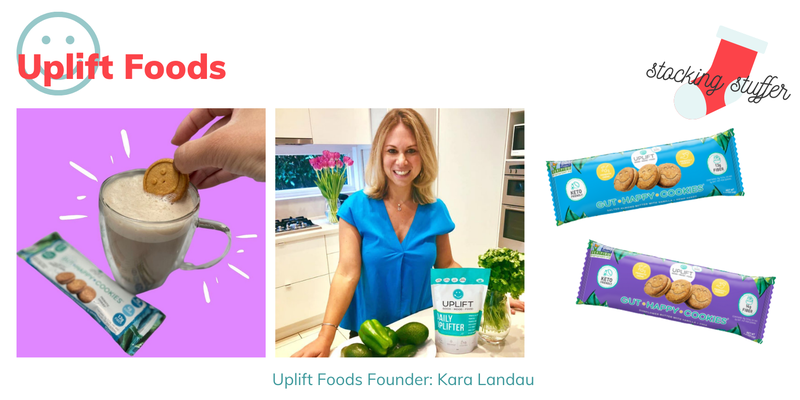 Uplift Foods
Gut Happy Cookies: Another Parsnip member that we had the pleasure of doing a blog post with is Uplift Foods founder Kara Landau. A dietitian focused on probiotics, Kara wanted to make a product filled with gut nourishing ingredients that fit with the diets and lifestyles of many folks these days: think keto, grain-free, plant-based, etc. These Gut Happy Cookies are not super sweet, rather they are a bit salty and perfect for munching on at breakfast. They are low-sugar, high-fiber, and 100% plant-based! 
Who we're buying it for: Look ya'll, we are 100% for living your best life and eating what brings you joy and happiness during the holidays. But, there is no denying that the aftermath of that might leave your tummy a little displeased with the situation. Pop a pack of these in everyone's stocking for post-holiday snacking, and they will thank you later! 
Coupon Code Roundup
Savorista Coffee: You can save 25% on all coffee with the code SAVOR25.
Rhizome: You can save 30% on your order with the code PARSNIP.

---
Want more from Parsnip? Follow us!
This gift guide was written by Emily Hines, a freelance brand manager for CPG brands.